During the first three months of 2022, Carta's investor services product team made several updates to the investor services experience. For instance, we made upgrades designed to make capital calls more precise and created a smoother fund closings experience.
But that's not all: We're also introducing crypto fund administration, seamless valuations updates, new enhancements for our Portfolio Insights customers, and a Brex banking partnership for SPVs. We'll walk you through those updates below. 
Valuation updates can now be submitted directly in Carta
One of our goals this quarter was simplifying and automating the quarterly and annual reporting process for fund managers. We kicked off the year-end reporting season by enhancing the schedule of investments (SOI) review process for unaudited funds. 
In the past, fund administrators conducted reviews and updates of company valuations over email. Now, you and your fund admin can conduct the entire valuations review process in Carta.
If your fund is unaudited, you can approve your portfolio valuations, mark up investments, and request other updates directly in Carta.
How it works
You'll receive an email with a link to your SOI for review. This link allows you to approve your SOI or request changes, including markups and markdowns on investment valuations, directly in the Carta app. You'll no longer need to go download your SOI and itemize every change via email.
Carta will automatically queue up any approvals or requests for changes to portfolio investments that fund administrators need to review and approve. We'll also update markups and markdowns that pass health checks and route them to our Deal Docs team, so they can review and catalog supporting documentation. 
The result: a more streamlined and automated valuations review and approval process that will save you time that's better spent with investors and entrepreneurs. 
Improved company KPIs for Portfolio Insights
We recently launched three new features to help Portfolio Insights customers collect, track, and share portfolio company KPIs.
Portfolio Insights self-service
Firms that request and receive regular updates from their portfolio companies can now self-service quarterly financial and KPI information. Before this release, firms had to rely on a Carta Portfolio Insights associate to provide this data. 
Custom KPIs
In addition, Portfolio Insights clients can now create custom fields for KPI updates from their portfolio companies. Custom fields can include text, dates, integers, or percentages. This update allows funds to track non-financial metrics, like company headcount, as well as any non-numeric KPIs they wish to collect. 
Custom KPIs can apply across the portfolio, or to subsets of portfolio companies. Either way, we'll  collect the data whenever we request updates from your portfolio companies. 
You'll be able to track all your portco KPIs through our upgraded portfolio company pages.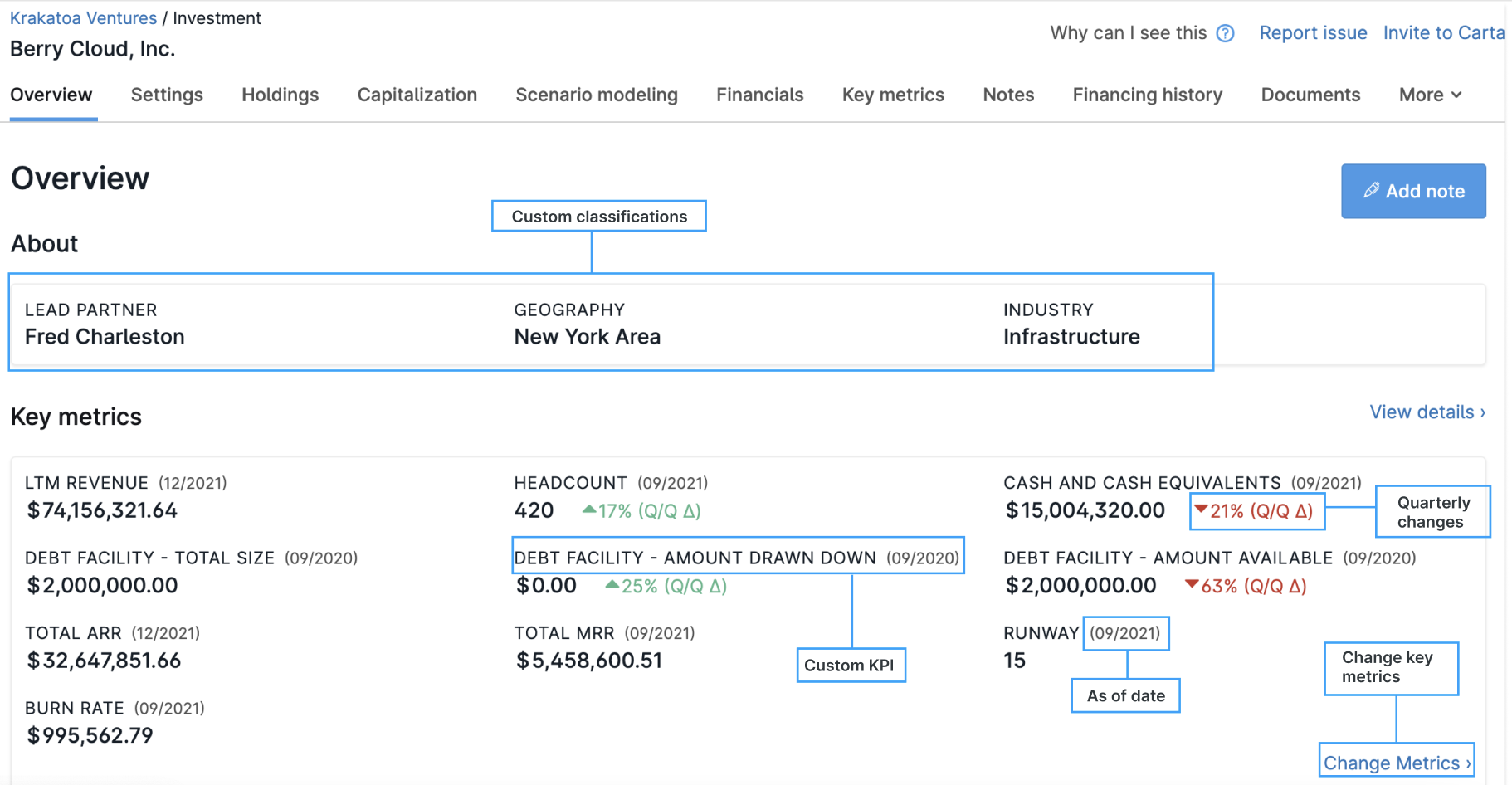 Customized company tearsheets
Firms with Portfolio Insights enabled can now select which KPIs you want to show alongside financials on company-specific tearsheets. Customizing your tearsheets will allow you to share portfolio company performance data with LPs and investment insights with GPs in your firm.
You can now select companies based on predefined categories or individually choose which companies you want to include in your tearsheet package.
To create a custom tearsheet, go to a company's profile, then to Settings, and select which KPIs you want to include.
Introducing cryptocurrency services
We're excited to announce that we now include cryptocurrency in our fund formation and administration services. Carta's experienced fund administrators understand the crypto ecosystem and can provide efficient formations, administration, and compliance services for your alternative asset investments. We've also updated the general ledger to support crypto assets and transactions. You can track details like wallet address, transaction hashes, and NFT floor prices right in Carta.
Banking services with Brex integration*  
We've recently partnered with Brex, a digital wealth management company, to offer banking services to clients who form Carta SPVs as LLCs. This partnership gives Carta clients access to:
Instant account approval through the Carta web or mobile app
A streamlined bank account application process, with pre-filled data already collected in Carta 
Preferred pricing, including zero account or payment fees
Free automated clearinghouse and wires worldwide
Automated syncing of bank transactions with Carta's general ledger, which means LPs get payment confirmations quickly and capital call status is up-to-date. 
If you're interested in a Brex account, you can follow this step-by-step tutorial:
Learn about other new updates we launched this year, including streamlined capital calls and a smoother closings experience. You can also reach out to request a demo of any of the new features.
---
DISCLOSURE: This communication is on behalf of eShares Inc., d/b/a Carta Inc. ("Carta").  This communication is for informational purposes only, and contains general information only.  Carta is not, by means of this communication, rendering accounting, business, financial, investment, legal, tax, or other professional advice or services.  This publication is not a substitute for such professional advice or services nor should it be used as a basis for any decision or action that may affect your business or interests.  Before making any decision or taking any action that may affect your business or interests, you should consult a qualified professional advisor.  This communication is not intended as a recommendation, offer or solicitation for the purchase or sale of any security. Carta does not assume any liability for reliance on the information provided herein. ©2022 eShares Inc., d/b/a Carta Inc. ("Carta"). All rights reserved. Reproduction prohibited.
*Carta and Brex Inc. ("Brex") have entered into a services agreement whereby Brex will offer cash management accounts ("Brex Cash Accounts") and Brex-branded corporate credit cards ("Brex Cards") to qualified Carta customers, subject to applicable terms. If you are approved for a Brex Cash Account or Brex Cards, Brex will be your provider. Any engagement for the performance of services is at Brex's sole discretion and no offer is being made herein by Brex. Neither Brex nor Carta, nor any of their respective affiliates, will be liable for any damages caused in any way or arising from the use of the other party's services or reliance upon the information provided by the other party.
The Brex logo is a registered trademark of Brex, used with permission.