In times like these, connecting with people is more crucial than ever in our virtual-first world. At Carta, we're committed to providing our customers with access to world class talent to ensure their success. We have an experienced, service-centric fund administration team that helps investors gain the competitive edge. Our Carta fund administration team has worked at the forefront of venture capital, finance, and private equity in top tier institutions. We sat down for a Q&A with some of our fund administrators to talk about how our approach helps clients reach their strategic goals. Talk to us today about how our fund admin team can help you grow your fund, request a demo.
Meet our Fund Administration team 
Josh Ford
Josh has over six years of experience in the finance industry, focusing on back office operations. He started in a middle office role at a small mutual fund manager before he spent 4 years managing the daily account reconciliation of $55b+ in AUM of international and complex clients at Parametric Portfolio Associates, a subsidiary of Eaton Vance.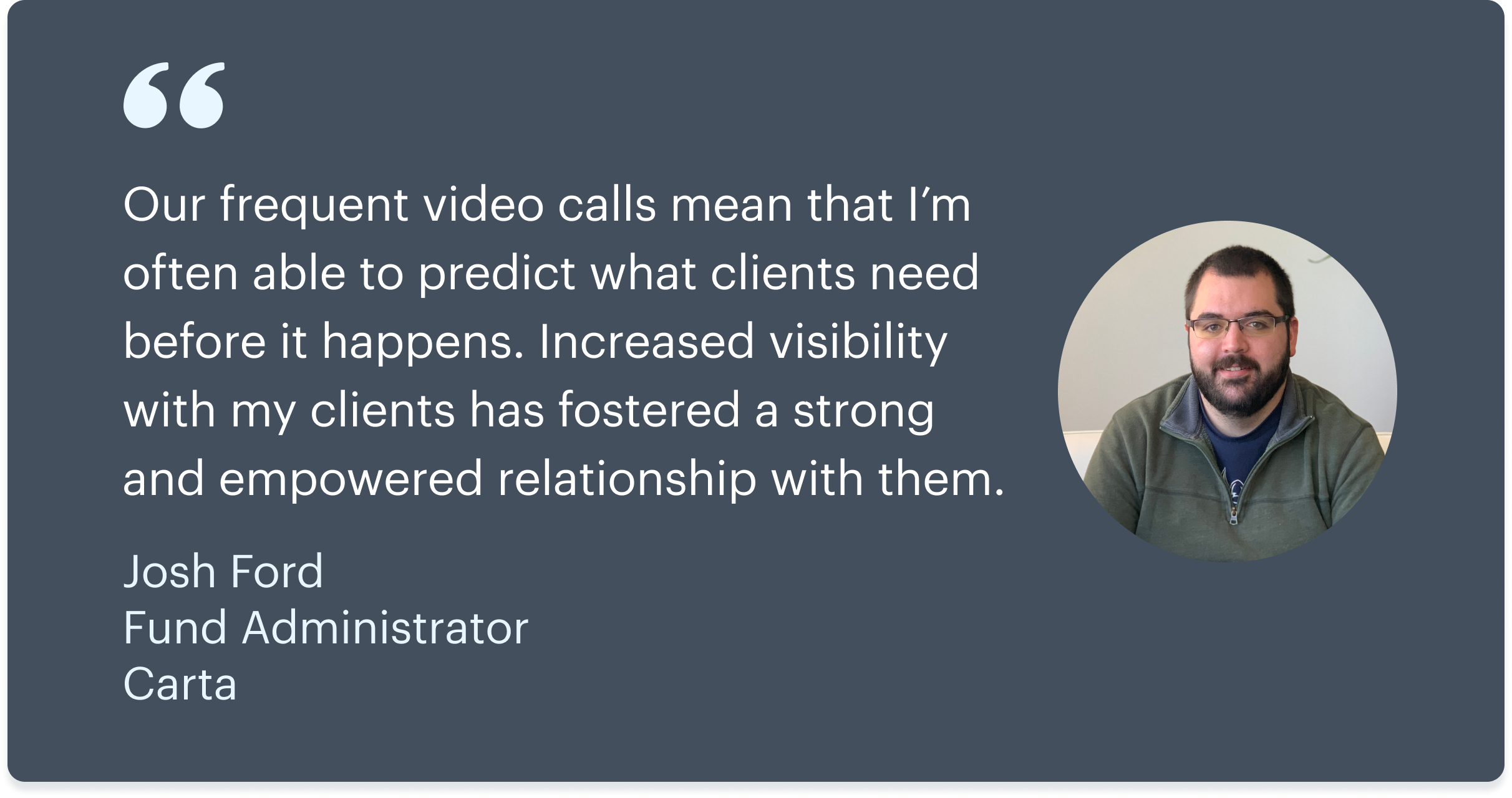 How has the service you offer to customers changed in 2020 from 2019?
In today's COVID era, I've been able to talk to my clients face-to-face far more than I had pre-COVID. Our frequent video calls mean that I'm often able to predict what they need before it happens. Increased visibility with my clients has fostered a strong and empowered relationship with them. It has allowed me to get an even better understanding of what they value and need, enabling us to be more proactive in our response.
What were hard problems you helped your customers solve with Carta and what were the outcomes?
Many clients have hundreds of investments throughout their various funds.  It can become a logistical challenge to maintain such a high volume of investments on their books. During quarterly reporting in 2020, I noticed a discrepancy between a client's reports and what their portfolio companies were reporting on their Carta-managed cap tables. 
After a thorough reconciliation of the other investments that utilize Carta's cap table product, I found a few more instances in which the portfolio companies had failed to notify our client of updates. We gathered the missing information and updated the books and records for accuracy. This has given our client more confidence in the subsequent reports we generate. 
Without Carta's cap table integration with our fund admin platform, it would be tough to catch these discrepancies.
Ana Perminova
Ana started working at Carta in May of 2018 and was one of the first five people on the Fund Administration team. She has been in fund accounting her entire career. She started as a fund accountant at Citi Private Equity Services back in 2011. Prior to joining Carta, Ana worked at BlackRock for three years in the Private Equity Partners Fund Accounting group. She has also worked at another fund administrator, primarily focused on VC clients.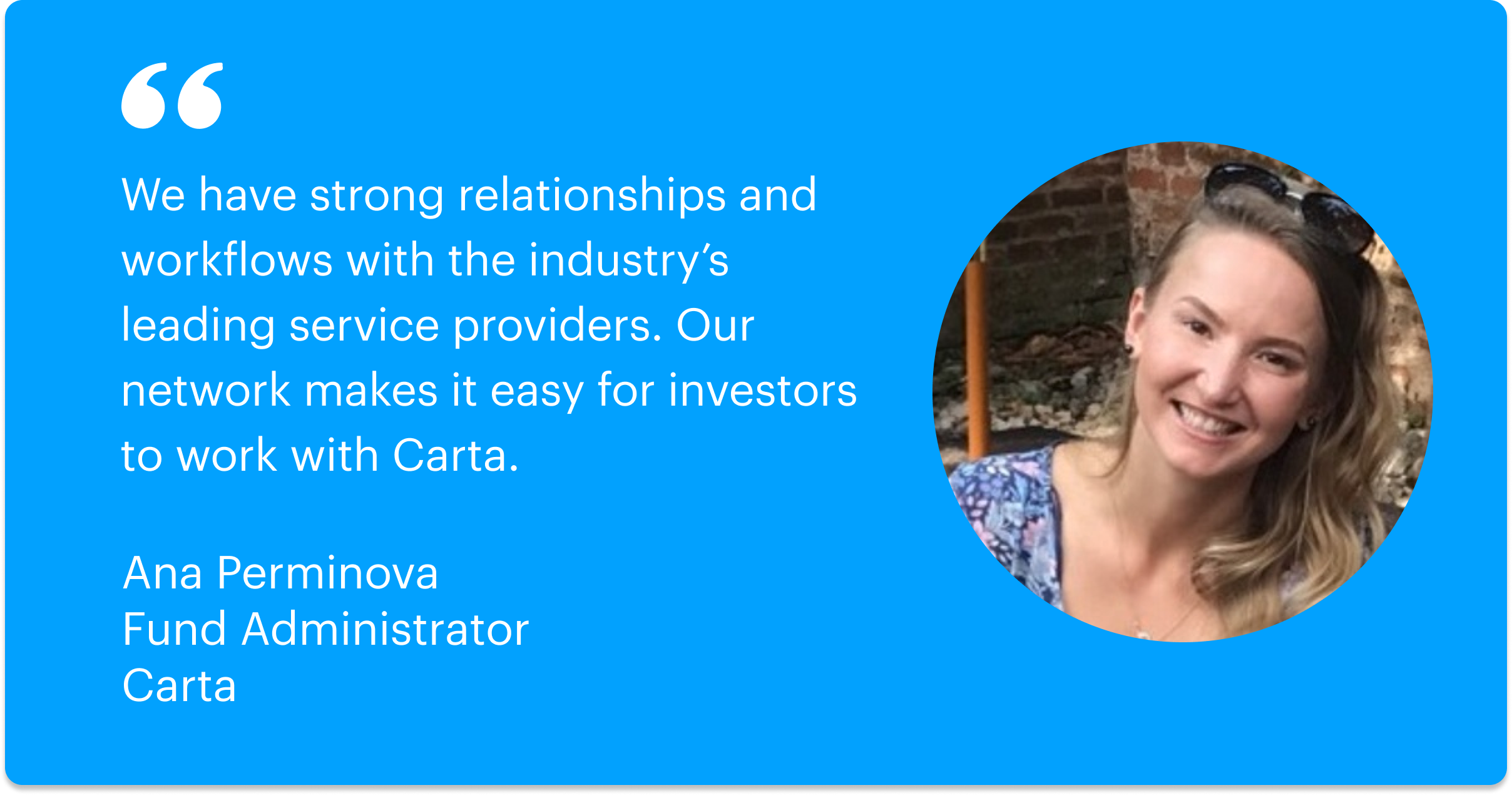 How have you helped your customers save time and money with Carta?
Clients don't always realize that by partnering with Carta Fund Admin, they gain access to our network of service providers we know and trust. We save our clients time by introducing them to vendors that a fund typically engages; from audit, tax, to payroll, to legal. This is especially valuable to first-time GPs who are building their firms. 
 If they choose to work with one of our select providers, it also increases efficiency as we have established workflows with these vendors.
What's the best feedback you've received from your customers?
During a call with one of our clients last month, they thanked the Carta team for all the hard work, and their exact words were: "out of all our vendor relationships, it's Carta that really stands out as truly feeling like a part of our team."
Earlier this year, we had a trial with a new customer where we were competing against another fund administrator. We performed so well that they ended the trial early. They said: "usually, the fund admins are a little more laid back and disengaged. The Carta Fund Admin team seemed proud to be at Carta and committed to ensuring our success."
I think a common theme in the positive feedback that we get from our clients is just that they see our Fund Admin team as members of their own team. I believe it is an extremely important differentiator in the industry and shows the level of trust they place in us.
Jason Seidner
Jason began working at Carta in July 2019 as a Fund Controller. He has over 20 years of experience in the finance industry including 18+ years in private equity/venture capital fund accounting. He spent a large part of his career at BlackRock in its Private Equity Partners Fund Accounting group working on fund-of-funds and direct investments.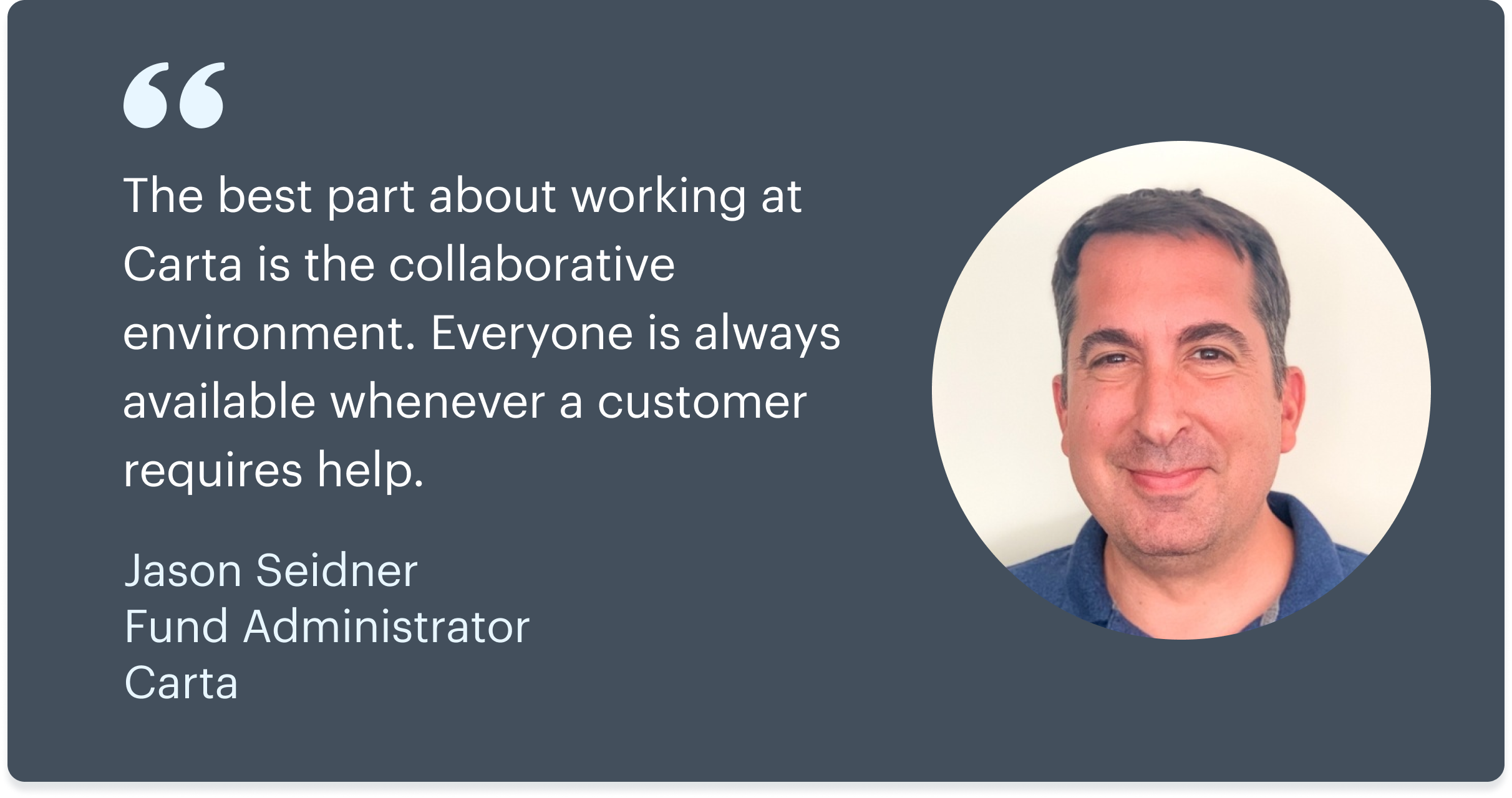 What are your top 3 priorities for serving your customers?
My top priority is providing support through answering emails and questions in a timely manner. Regardless of how complex the question or solution may be, a response is warranted to let the client know that we have acknowledged their request and will get to it as soon as possible. 
Second, I always strive to deliver quarterly and annual deliverables on, or ahead, of schedule. The sooner we can get a deliverable to a client for review and approval, the better off we all are. 
Lastly, my goal is to always be a source of truth for our clients. I think it is a mistake and unwarranted to give a client a guess on something. Instilling trust with my clients is imperative to a good working relationship. I want them to trust me and have confidence that the Carta team will always work to find the best solution.
What used to be very hard, that is now easy with Carta?
We've created our own proprietary general ledger (GL) that is used within the Carta app. Our product experts and fund admins have helped make the GL a valuable tool that sets us apart from our competition. 
The GL saves us a lot of time by not having double data entry for multiple sources, which could increase the likelihood of errors. One feature that has streamlined the process is the capital call module in the GL. This module automatically flags limited partners that have either prepaid or have an outstanding call amount. In the past, this would be a manual process where details could easily be missed. With Carta's technology, paired with Fund Admin services, we've completely eliminated those concerns. 
One of the best parts of working at Carta is the collaborative environment that is encouraged between teams within Fund Admin as well as the broader Carta team. Everyone is always available to offer their insights and help whenever a customer requires help.
Breyona Goodman
After working at a Big Four public accounting firm, Breyona ultimately made the choice to join the Carta team in March 2019. With almost two years of fund administration experience at Carta, Breyona has been able to build connections with a wide range of clients.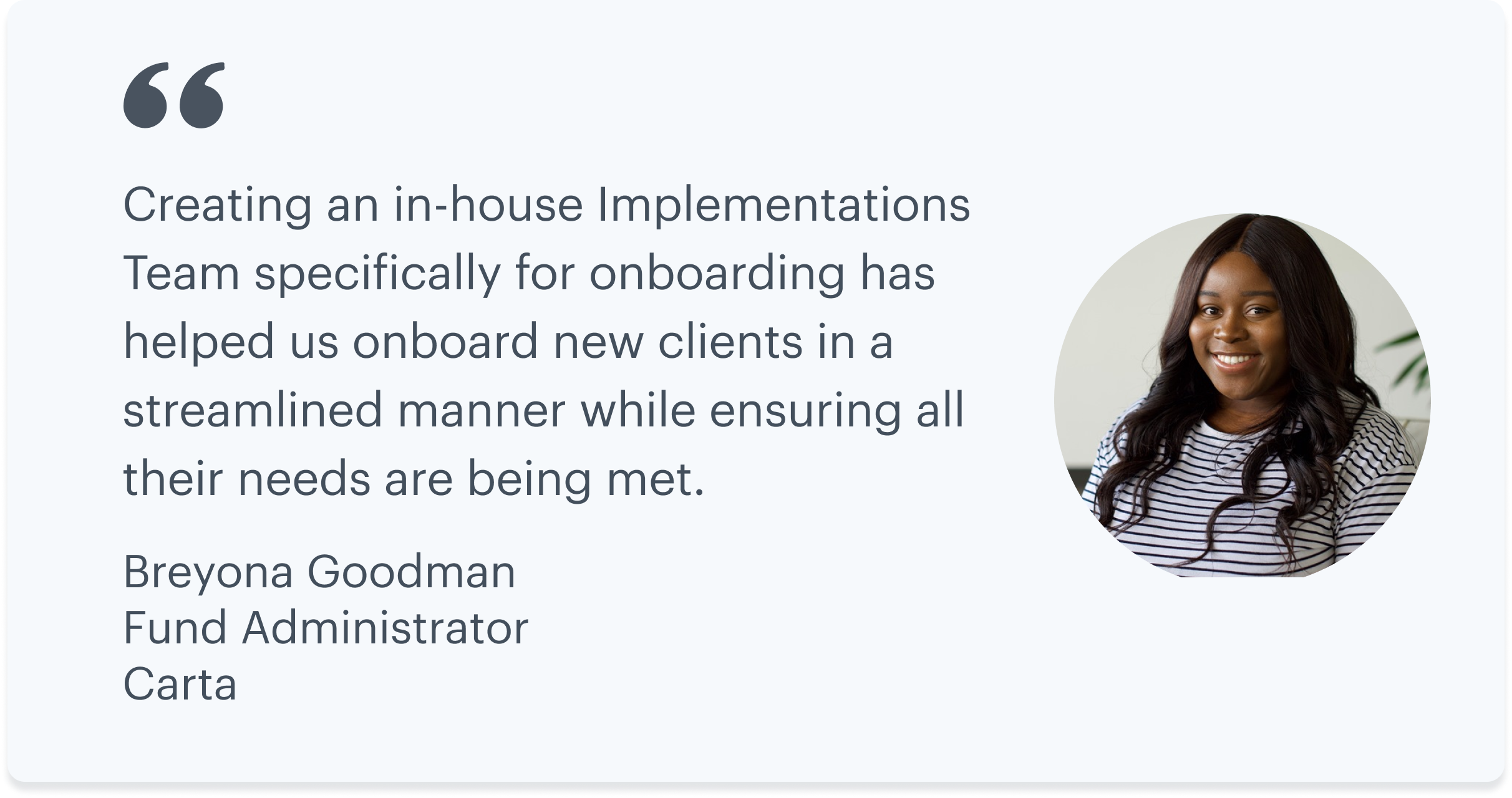 How do you stay in touch and foster closer relationships with your customers?
A big way that my team fosters closer and more personal relationships with our clients is through frequent video meeting syncs. For the majority of my clients, we have either bi-weekly or weekly Zoom syncs. In addition to answering my clients' questions, we often end up talking about general things going on in our world that we typically wouldn't talk about through email. This allows for a more personal touch and allows us to get to know the customer as an individual instead of simply another client.
What tasks were you able to tackle more efficiently and operationally with your customers?
I rely on the help of our in-house implementations team when taking on new clients to complete onboarding much more efficiently than before. Onboarding used to be a drawn-out process that included a lot of back-and-forth with the clients. Creating an in-house Implementations Team specifically for onboarding has helped us onboard new clients in a streamlined manner while ensuring all their needs are being met. 
Tyler Hosterman
Tyler started working at Carta in March 2020 as a Staff Fund Administrator after a few years of working in public accounting, primarily in tax. He is a CPA and spent the beginning of his career as a Senior Staff Accountant at Horvath & Giacin.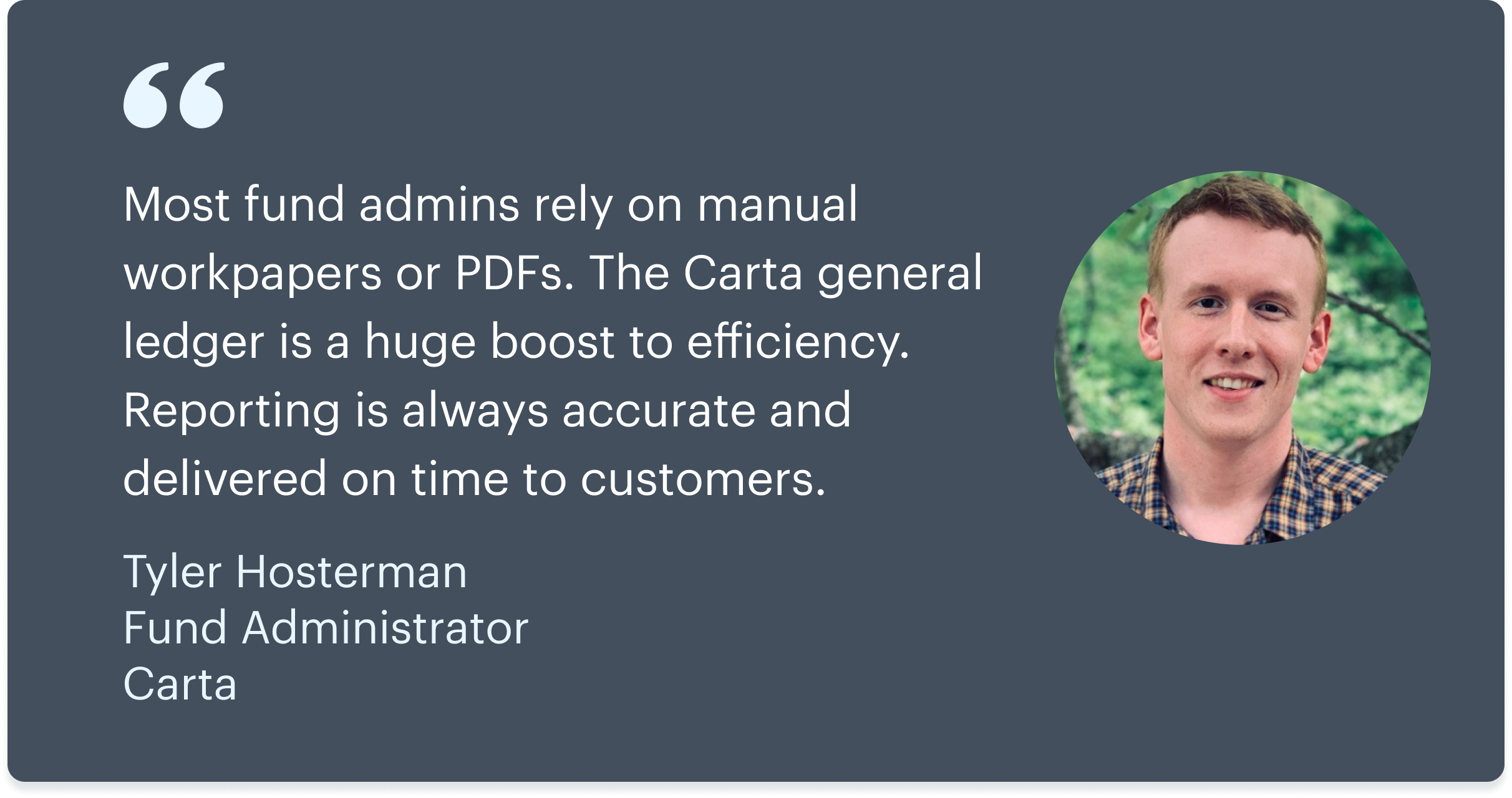 What's the best feedback you've received from your customers?
In general, feedback has been amazing! Common themes from our clients include Carta's responsiveness and helpfulness. Clients feel like when they reach out they will get prompt responses to address their needs. Our clients always remind us that they enjoy working with us and look forward to hearing about product improvements that are made to the platform and LP experience. A few other clients have repeatedly told us that they love our service due to their personalized experience with us.
What tasks were you able to tackle more efficiently and operationally with your customers?
One of the major tasks I'm able to handle more efficiently is the capital call process. Our integration between our capital calls tool and the Carta GL ensures accuracy and consistency between systems. It's easy to see outstanding capital calls, enabling better visibility on both our and the client's side. Another task is the quarterly workpapers and fund financials. Compared to our old manual workpapers, the Carta general ledger is a huge boost to efficiency. Now we simply export from Carta GL rather than manually transferring over to a spreadsheet. Lastly, distributions and wire instructions for LPs on Carta has become more streamlined. We are able to generate distribution notices in the app and send requests to LPs to update their wire instructions, which is a huge time saver!
Kat Luh
Kat started at Carta in 2019 as a Fund Controller and has over 16 years of industry experience in venture capital, hedge, and mutual fund accounting. During her 8+ years in hedge fund accounting, she oversaw the daily, monthly, and annual reporting activities of several large funds with over $16b in AUM.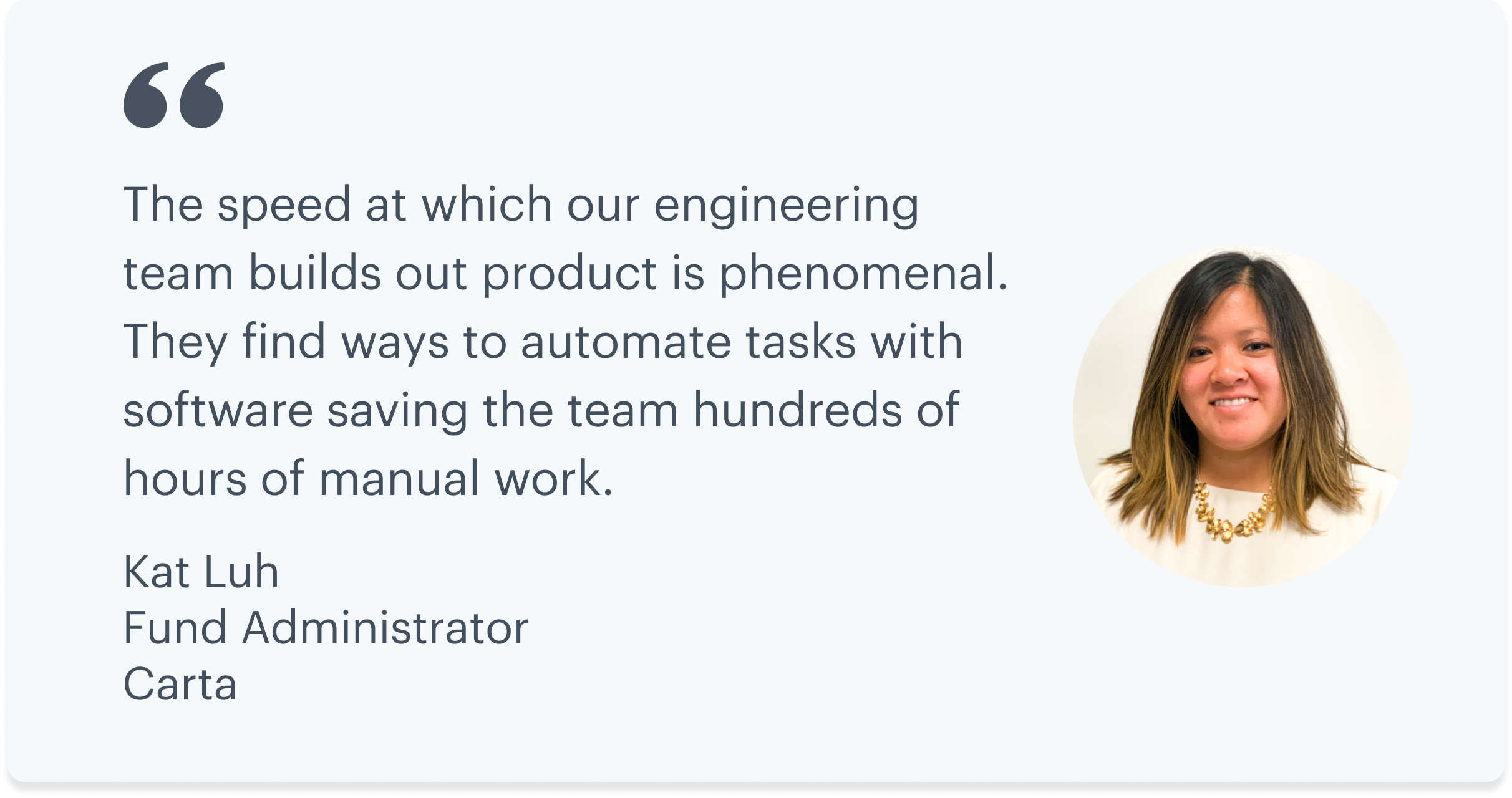 What used to be very hard that is now easy with Carta?
After spending the bulk of my career at larger financial institutions, transitioning to working at a Carta has been an eye opener! The speed at which our engineering team can build out product updates and enhancements is phenomenal. If the fund accounting team brings a current manual workflow to the product team, they find ways to automate those tasks with software, which saves the team hundreds of hours of manual work and eliminates human error. For example, creating capital call notices was generally a manual process requiring word documents, mail merges, and PDFs. Now, it can be done on the Carta platform in its entirety with the press of a few buttons.
What are your top 3 priorities for serving your customers?
My number one priority is ensuring that we're responsive to all client and LP queries. Clients appreciate having their emails and phone calls acknowledged, even if it takes additional time to get the answer. Next, I want to make certain that we are providing timely and accurate deliverables. Sending out inaccurate reporting or information to our clients' investors reflects poorly on Carta as well as our clients. Lastly, it's beneficial to be transparent about our processes and workflows to ensure the customer knows exactly how we'll be working with them and supporting their journey. 

Our stellar fund administration team provides our clients with the highest level of service each and every day. When our clients win, we win. Our customer-centric approach is evident in the daily interactions and tasks we help execute for your fund. Let us know how we can help. 
Get Carta fund administration services
This communication is on behalf of Carta Investor Services, Inc. ("Carta"), an affiliate of eShares Inc., d/b/a Carta, Inc. ("Carta, Inc."), and is not to be construed as legal, financial, accounting or tax advice; it is for informational purposes only. This communication is not intended as a recommendation, offer or solicitation for the purchase or sale of any security. Neither Carta nor Carta, Inc. assumes any liability for reliance on the information provided herein.