Founder 101: How to use customer feedback to improve your product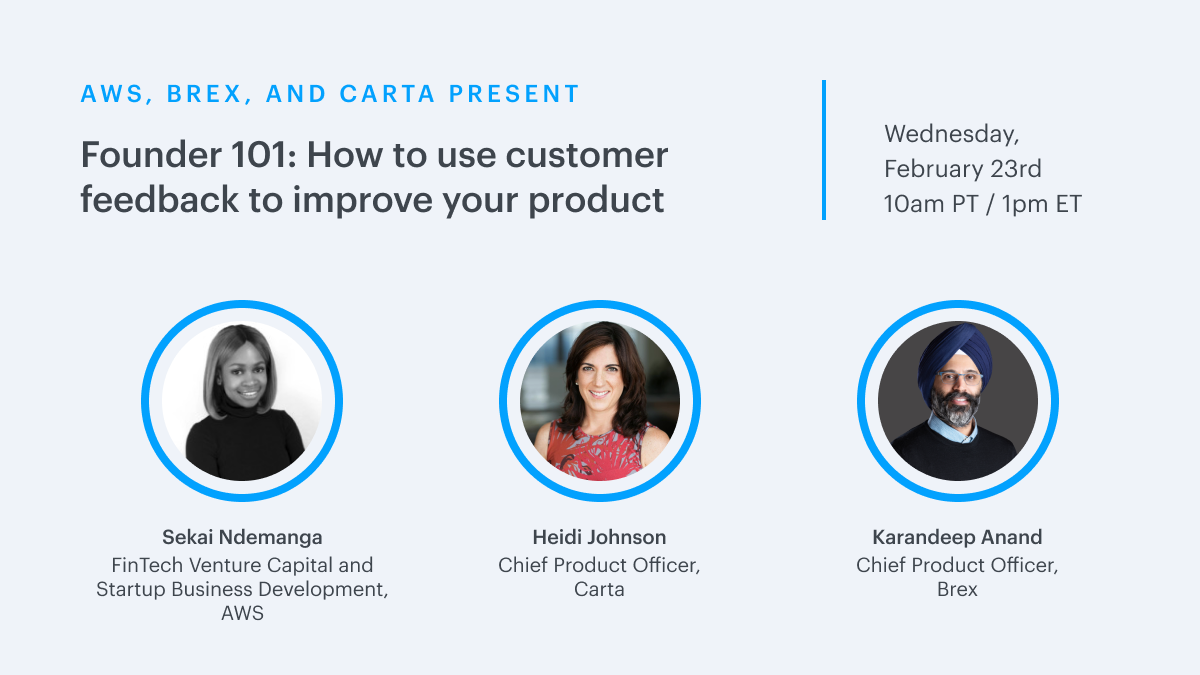 Is the customer always right? Hear what Brex CPO, Karandeep Anand and Carta CPO, Heidi Johnson have to say about it in our webinar on February 23 at 10 am PT/1pm ET. 
You'll walk away with: 
Understanding the smartest ways to collect, analyze, and implement customer feedback.

Knowing how to focus on the most valuable & actionable feedback.

Having your questions answered by the talented panelists.
The event will be moderated by Sekai Ndemanga, Startup Business Development @ AWS.
DISCLOSURE: This communication is on behalf of eShares Inc., d/b/a Carta, Inc. ("Carta"). This communication is not to be construed as legal, financial, accounting or tax advice and is for informational purposes only. This communication is not intended as a recommendation, offer or solicitation for the purchase or sale of any security. Carta does not assume any liability for reliance on the information provided herein. By submitting your information, you agree to the processing of your personal data by Carta as described in Carta's Privacy Policy and consent to your registration information being shared with AWS and Brex for marketing purposes.
Speakers
Heidi Johnson

CPO, Carta

Heidi Johnson is the Chief Product Officer at Carta, a company revolutionizing the way founders, investors, and employees manage equity and ownership.
In her role as Chief People Officer at Carta, Heidi leads a team responsible for developing new products and advancing existing solutions that deliver value to Carta's more than 23,000 customers in the venture and startup ecosystem, and generate growth for the overall business.

Karandeep Anand

CPO, Brex

Karandeep Anand leads Brex's product portfolio expansion efforts and brings extensive product leadership experience to Brex. He most recently led Meta's business products group, which served more than 200 million businesses globally. Prior to that, Anand spent 15 years at Microsoft where he led the product management strategy for Microsoft's Azure cloud and developer platform efforts.