How Secondaries Impact 409A Valuations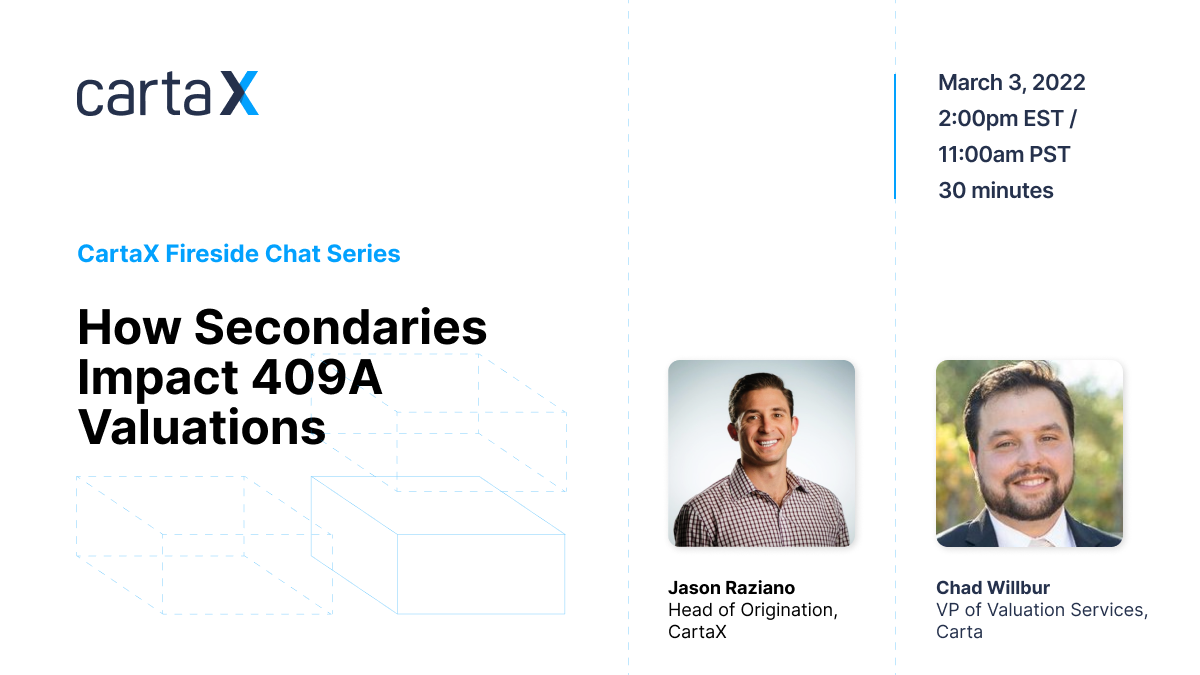 As noted in Carta's Liquidity in 2021 report, the movement toward private market liquidity rose sharply against a backdrop of high U.S. venture capital activity. This trend resulted in Carta executing 129 secondary liquidity events in 2021 – a 4x growth in transactions YoY! And with that momentum, we received an influx in questions around how secondary liquidity events impact a company's 409A valuation.
Join us on March 3, 2022, 2:00pm EST / 11:00am PST to hear Jason Raziano, Head of Origination at CartaX, and Chad Willbur, Vice President of Valuation Services at Carta, discuss the basics of secondary liquidity events and 409A valuations and then answer these commonly asked questions and more:  
Why do secondary liquidity transactions count as a material event? 

How do secondaries impact a private company's 409A filing?

How many secondary liquidity events can occur before there's a material impact to my 409A?
A brief Q&A session will follow. 
About CartaX's 2022 Fireside Chat Series:
CartaX's Fireside Chat Series is an educational series focused on highlighting the thought leadership and market insights of the CartaX team. Each 30-minute live session will touch on hot topics impacting companies, investors and employees within the private market space, followed by a Q&A session.
© Carta Capital Markets LLC ("CCMX") | Brokerage products and services offered by CCMX | All Rights Reserved | CCMX is an SEC registered broker-dealer and member of FINRA/SIPC, and is the operator of an Alternative Trading System (ATS) – CartaX – which facilitates the trading of the unregistered equity securities of private non-reporting issuers | CCMX is not a bank | CartaX is not a registered stock exchange | CCMX undertakes no obligation to update content herein | No business, investment, tax or legal advice is provided by CCMX | Potential investors are advised to conduct their own due diligence and consult with their tax, legal, and financial advisors with respect to any investment | All securities involve risk and may result in partial or total loss | Data and statistics provided herein may include data amalgamated between transactions facilitated by CCMX, and those facilitated by its affiliates There is no guarantee that a private company will conduct an initial public offering or provide an alternative exit strategy for your invested capital | Images are illustrative and may differ from application experience | See more important disclosures here.
Speakers
Chad Willbur

Vice President of Valuation Services, Carta

Chad Willbur serves as the Vice President of Valuations Services at Carta where he is responsible for the valuation of privately-held securities for enterprise, middle-market and early stage companies across various industries. Prior to joining Carta, Chad specialized in both public and private company valuations since 1999. He most recently served as a Director at Anderson Tax and a Senior Vice President within the Venture Capital & Private Equity group at Quist Valuation. Chad is an active member of the American Institute of Certified Public Accountants Task Force, helping to develop guidance for stock-based expense reporting under ASC718.

Jason Raziano

Head of Origination, CartaX

Jason Raziano serves as the Head of Origination for CartaX, focused on advising companies on capital markets solutions for secondary transactions. Prior to joining Carta, Jason spent four years in Venture Capital where he focused on fintech, marketplaces, and ecommerce. He invested in, and has held board observer roles at a variety of companies that include: Blockfi, PIPE, Mayven, Daily Harvest, Boardable, Wallapop, Letgo, Food52. Jason began his career in Foreign Exchange / Interest Rates Sales & Trading at Morgan Stanley.