The Rumblings of Capitol Hill: The Regulatory Outlook for Private Markets and Crypto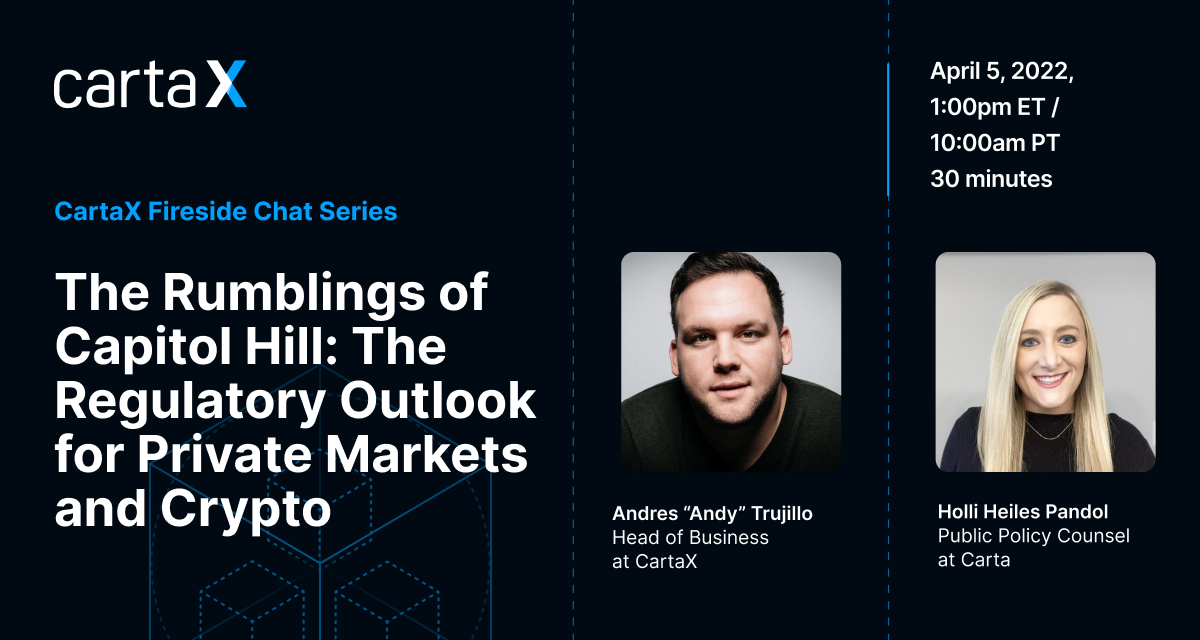 Nearly ten years ago, President Obama signed the Jumpstart Our Business Startups (JOBS) Act into law with the goal of improving access to capital for startups and entrepreneurs. Much has changed since that time. The U.S. Securities and Exchange Commission (SEC) is embarking on an aggressive policymaking and enforcement agenda, which includes enhanced oversight of private companies and private funds, as well as cryptocurrencies and digital assets.  What does this shift in focus mean for capital formation and innovation?  
Join us on April 5, 2022 at 1:00pm ET / 10:00 am PT to hear Andres "Andy" Trujillo, Head of Business at CartaX, and Holli Heiles Pandol, Public Policy Counsel at Carta, discuss the political dynamics in Congress and the SEC as well as the policy implications for the private markets and crypto industry. A brief Q&A session will follow.
About CartaX's 2022 Fireside Chat Series
CartaX's Fireside Chat Series is an educational series focused on highlighting the thought leadership and market insights of the CartaX team. Each 30-minute live session will touch on hot topics impacting companies, investors and employees within the private market space, followed by a Q&A session.
DISCLOSURE: © Carta Capital Markets LLC ("CCMX") | Brokerage products and services offered by CCMX | All Rights Reserved | CCMX is an SEC registered broker-dealer and member of FINRA/SIPC, and is the operator of an Alternative Trading System (ATS) – CartaX – which facilitates the trading of the unregistered equity securities of private non-reporting issuers | CCMX is not a bank | CartaX is not a registered stock exchange | CCMX undertakes no obligation to update content herein | No business, investment, tax or legal advice is provided by CCMX | Potential investors are advised to conduct their own due diligence and consult with their tax, legal, and financial advisors with respect to any investment | All securities involve risk and may result in partial or total loss | Data and statistics provided herein may include data amalgamated between transactions facilitated by CCMX, and those facilitated by its affiliates There is no guarantee that a private company will conduct an initial public offering or provide an alternative exit strategy for your invested capital | Images are illustrative and may differ from application experience | See more important disclosures here
Speakers
Andres "Andy" Trujillo

Head of Business, CartaX

Andres "Andy" Trujillo is the Head of Business for CartaX, a business unit within Carta that is unlocking the value of ownership in the private markets. Over nearly a decade, Andy has held a variety of roles, including as a corporate and securities attorney, product manager, and business leader developing market structure and product innovations across public and private capital markets.

Before joining Carta, Andy was part of the team that helped launch IEX, a national securities exchange disrupting public equities market structure. Before joining IEX, Andy held various positions at boutique investment firms and law firms, focused on innovation and key strategic initiatives at the intersection of business, technology, and law. Andy graduated with a dual degree from Stony Brook University and holds a Juris Doctorate from Brooklyn Law School, where he graduated with honors.

Holli Heiles Pandol

Public Policy Counsel, Carta

Holli Heiles Pandol serves as Counsel for Public Policy at Carta. Prior to joining Carta, Holli served as a Senior Officer at the U.S. Securities and Exchange Commission under Chairman Jay Clayton as the Director of the Office of Legislative and Intergovernmental Affairs. Before the SEC, Holli helped shape financial and capital markets policy on Capitol Hill, where she served in a number of senior roles as Capital Markets Counsel to the House Financial Services Committee and as a senior adviser and counsel to Reps. French Hill and Tim Griffin.

Holli earned a B.S.B.A. in Finance and Accounting and J.D. from the University of Arkansas and LL.M. in Taxation from Georgetown University Law Center.