Prepare for your next round
RECORDED FEBRUARY 27, 2020
Planning the raise
Get insights on how much you should raise and what type of equity you should give out.
When to raise
Timing's important. We explore the pros and cons of different times of year to fundraise.
Tackling administrative work
There's a lot of equity admin work to be done – we'll break down what you need to do with a checklist.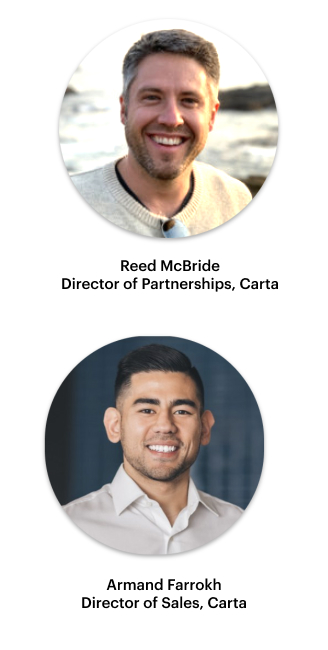 Reed McBride
 started his career in Silicon Valley as an attorney at Orrick, advising technology companies. Prior to joining Carta, he scaled two startups over five years, building and leading numerous functions. Reed currently runs Partnerships at Carta.
Armand Farrokh
 started his career by founding a fitness tech company. He then joined the strategy and venture investment team at Flex. At Carta, Armand brought on over 100 customers – from early stage startups to pre-IPO companies – and has since transitioned to lead Carta's SMB Sales and Sales Development teams.