The state of first funds: Data and insights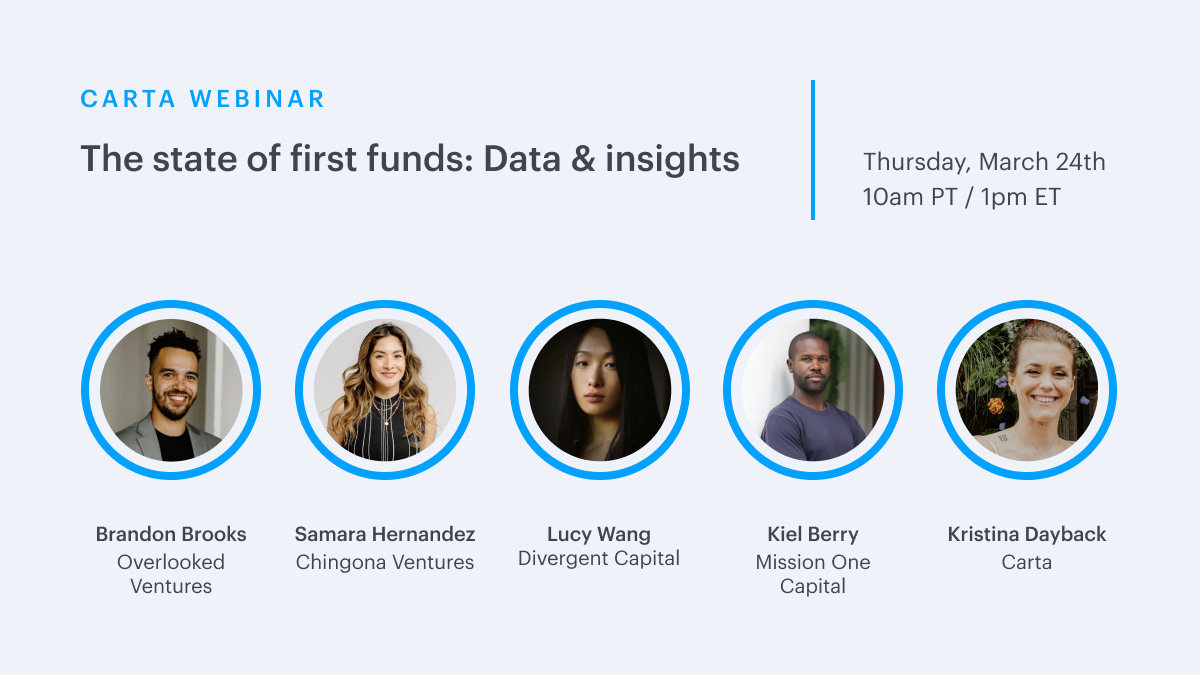 Carta's Fund I report identifies trends in first-fund formation across the U.S. It provides insights into where new venture firms are forming, how much capital they are raising with their first funds, and the types of investors they are attracting. 
Join us live, alongside an expert panel of fund managers, as we discuss trends in first-fund formation. 
The panel discussion followed by a live Q&A session will cover:
First-fund trend analysis, including the number of first funds by year, the size of first funds entering the market, who's investing in first funds, and where new first funds are forming

How first-fund managers assemble capital commitments and manage their relationships with limited partners (LPs)

How the venture ecosystem can benefit from better data transparency around first funds
DISCLOSURE: This communication is on behalf of eShares Inc., d/b/a Carta, Inc. ("Carta"). This communication is not to be construed as legal, financial, accounting or tax advice and is for informational purposes only. This communication is not intended as a recommendation, offer or solicitation for the purchase or sale of any security. Carta does not assume any liability for reliance on the information provided herein.
Speakers
Brandon Brooks

Founding Partner, Overlooked Ventures

Mr. Brooks is the Founder and CEO of Inventrify, a community-oriented crowdfunding platform for small businesses. Through his network, Brandon helps underrepresented founders connect with venture capitalists and alternative forms of funding to help them scale their startups. Mr. Brooks speaks on various stages to share his knowledge of the crowdfunding space to ensure equal representation in investing.
In 2021, Brandon Brooks formed Overlooked Ventures to further his mission and commitment to the underserved community: to put more capital access in their hands because he knows the missed opportunity for both investors and founders.

Kiel Berry

Managing Partner, Mission One

Kiel is the Founder & Managing Partner of Mission One Capital, an early-stage venture capital firm investing in frontier technologies solving for humankind's sustainability on our planet.
Most notably, Kiel built the venture arm for Grammy-award winning rock band Linkin Park, leading investments in companies such as Lyft, Robinhood, Impossible Foods, and others. He started his career at JPMorgan Investment Banking working in Mergers & Acquisitions in New York, Johannesburg, and London, after graduating from the University of Pennsylvania with a degree in Economics. Kiel also studied at Harvard Business School and University College London, and went to high school in Paris, France at the American School of Paris.
He is a 2-time TEDx Keynote Speaker, has been a Mentor with Techstars & MIT Startup Accelerator, and was appointed to the Technology Advisory Boards for New York City and Delta Airlines. In his personal life, Kiel is a husband, dad, and vegan triathlete.

Lucy Wang

Co-founder & General Partner, Divergent Capital

Lucy Wang is an experienced early stage emerging tech investor and operator. She is a founding general partner at Divergent Capital, a first check investor backing startups commercializing deeply technical & scientific innovations with unique business models. Prior to founding her own firm, she led deep tech investing 11.2 capital, a bay area based early stage fund, and Greycroft, an early stage venture fund based in NY and LA. As an operator, Lucy led product and customer engagement at Rendered AI, a synthetic data startup. Before this, Lucy was a founding team member of Livepeer, a decentralized live video streaming infrastructur
e built on Ethereum. Lucy is trained as a machine learning scientist with an MS degree from NYU and BA degree from Brown University.

Samara Hernandez

Founding Partner

Samara is the Founding Partner of an institutionally-backed pre-seed stage fund, Chingona Ventures, focusing on investing in tech & tech-enabled companies across the U.S. Before this, she was an investor at MATH Venture Partners; led new investment review, diligence, & execution. Before VC, she worked at Goldman Sachs, continually ranked top 5 in selling financial products, providing market insights, advising on portfolio construction, & consulting business practices. Her career started in the Fixed Income, Currency, and Commodity (FICC) group & led multiple tech-enhancing projects across global exchanges. Actively involved in the Chicago tech community & passionate about helping underrepresented groups get STEM education, VC, & entrepreneurship. Co-founded Latinx Founders Collective to bring together Latinx founders, investors, & community leaders to support the entrepreneurial ecosystem.