OVER 30,000 STARTUPS TRUST CARTA FOR FUNDRAISING AND ISSUING EQUITY
Issue ownership and manage your cap table. For Free.
Issue SAFEs and equity, track ownership, and manage your cap table with Carta's free platform for early-stage founders.*
(No sales call required. Free for companies with up to 25 stakeholders and up to $1M.)
Preferred by founders and investors
55% of all VC funding went to Carta cap tables in Q1 2021
Launch is where early-stage companies come to succeed — Launch companies have raised over $6.2 billion dollars on Carta
Generate and track your SAFEs all in one place
"I have made about 25 direct investments and the easiest to get done from commitment to wired are the companies using Carta: I signed, wired, and received my stock certificate in minutes. It can take days or weeks via other options. So well done!"
— Andrew Gluck,
GP, irrvrntVC
Know your worth and avoid leaving money on the table with access to real-time fundraising benchmarks and scenario modeling
"Carta helps us benchmark the valuation we're thinking of against actual deals happening in the market. It's incredibly helpful, and will likely help us save millions of dollars that we could have lost without that context. Every entrepreneur should be using this."
—Conner Wilson,
Founder/CEO, Pilot
ATTRACT AND INCENTIVIZE YOUR TEAM
Turn your employees into owners
"I love being able to see my options vest on the Carta mobile app each month. Being able to log in and keep track of my ownership is a reminder of why I joined my company and what I'm working toward."
—Aileen Comer,
Senior Product Manager, Clearcover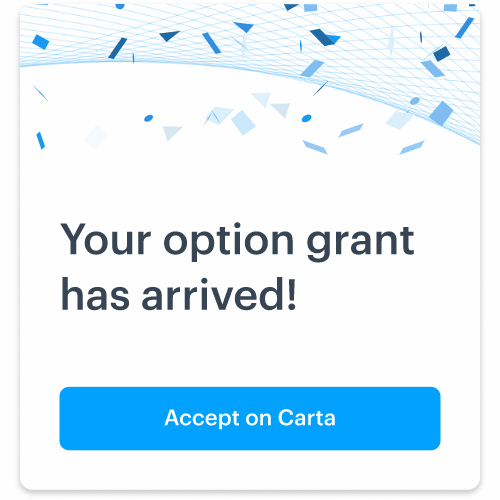 Get started in 3 simple steps:
Need a hand getting started? Partner with the Equity Admin professionals at Checkmate Equity and receive white glove onboarding for $500.¹ More info >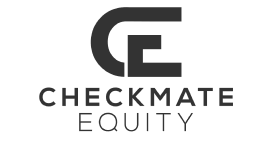 Take a video tour of Carta Launch
Everything you need for a strong start
Seamless onboarding
Easily create a Carta account for your company in minutes. Founders can choose to onboard through their law firm or self service.
Automatic cap table management
From Seed through IPO, Carta is your company's source of truth for equity.
Prepare to fundraise
Easily benchmark and understand the impact of potential fundraising and exit scenarios.
Issue equity
Generate compliant and trackable securities that get automatically updated on your cap table.
Raise your SAFE
Generate and track custom SAFEs, streamline communication, and automate cap table updates.
Employee log-ins
Employees gain access to their ownership information to track securities and vesting schedules. Employees can exercise their options anytime.
Generate equity plans
Quickly generate standard equity plan docs for easy option issuance for your early employees.
Data Room
Streamline and secure the deal management process in one centralized virtual data room.
HRIS & payroll integration
Ensure data accuracy and reduce manual entry.
Exercise options
Seamlessly manage exercise requests.
Share your cap table
Stay better connected with investors by enabling them to log in and track ownership and updates.
Collaborate with your law firm
Streamline administrative work and cut back on costs.
Transfer agent
Carta acts as your SEC registered transfer agent—you can rest assured that your equity data is safe with us.
All security types

Issue any type of security; options, RSA, RSU, warrants, SAFEs, convertible notes.
Board approvals
Create and manage board approvals and relevant updates from within the platform instead of through email.
Everything you need to know about starting your company, on Carta's Founder Resource Center
Starting a company is hard. Doing it with Carta is a little easier. Check out our library of content designed to help founders navigate the uphill journey to start-up success.
Get started with Carta Launch
* Launch is free for companies with less than $1M raised and 25 stakeholders or fewer. 

OFFER TERMS AND CONDITIONS: This offer is valid only for new customers of eShares, Inc. dba Carta, Inc. ("Carta"), and cannot be used for any subscriptions previously entered into. Carta Launch Plan Terms and Conditions also apply to qualifying subscriptions (see https://support.carta.com/s/article/launch-terms-and-conditions

), and subscriptions and feature availability may vary depending on, without limitation, the jurisdiction in which the customer is formed, incorporated or organized. Carta reserves the right to change or terminate this offer at its sole discretion. Offer may not be used or combined with other coupons, promotions, or special offers. The offer will be deemed fully redeemed once a qualifying subscription has been made. The offer has no cash value and no refunds or cash alternatives will be offered. Offer not available in all countries, and is void where prohibited by law. The offer only has value when redeemed in accordance with all terms and conditions of the offer.
¹ Checkmate Equity is a third party that's not related to or endorsed by Carta. This promo is subject to Checkmate Equity's terms and conditions. Carta is not responsible for the availability of the promo, the terms of the promo, or any Checkmate Equity services.