CARTA Partner Program
Partner pricing
Pricing table for reference only – do not share
Carta is focused on providing your clients with premium service at founder-friendly prices. Carta's pricing framework is based on the company's equity holder count (including all stock, option, and convertible holders) and which feature set best matches the company's current needs.
Note that the table below does not reflect your first-year partner discounts for clients. Additionally, companies that are not referred by a partner are charged an additional 25% implementation fee on their first-year subscription. To ensure that your partner discount is applied and that implementation fees are waived, remember to send all referrals to partners@carta.com.
Pricing is subject to change; please only use the table below for approximate estimates. Companies may be trued up during the contract year as their respective equity holder figures change. Please note this pricing is for venture-backed companies and all prices listed below are for annual plans. For Life Sciences companies, or private equity backed companies, please contact us for pricing.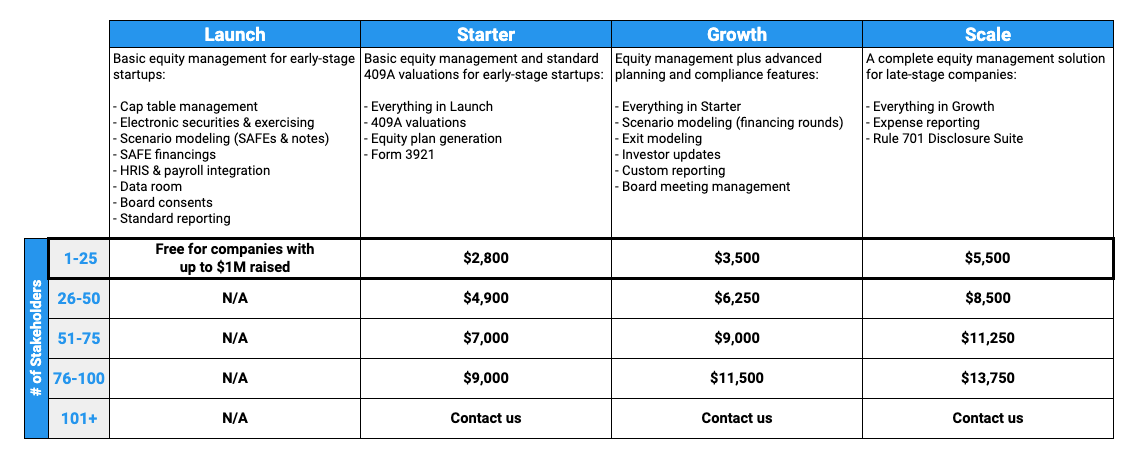 Annual pricing for Carta Total Comp is $250 per employee and is subject to change in the future. Carta Total Comp pricing is per Employee, not per Stakeholder.


DISCLOSURE: This communication is on behalf of eShares Inc., d/b/a Carta, Inc. ("Carta"). This communication is not to be construed as legal, financial, accounting or tax advice and is for informational purposes only. This communication is not intended as a recommendation, offer or solicitation for the purchase or sale of any security. Carta does not assume any liability for reliance on the information provided herein.
OFFER TERMS AND CONDITIONS: To be eligible for these offers, a company must sign up for a Carta subscription plan through a qualified page. The offer is valid for new customer who purchase Carta's cap table management services and are only valid for the first year of the subscription. Carta reserves the right to change or terminate this offer at its sole discretion. Offer may not be used or combined with other coupons, promotions, or special offers. Offer cannot be used for any subscriptions previously entered into. The offer will be deemed fully redeemed once a qualifying subscription has been made. The offer has no cash value and no refunds or cash alternatives will be offered. Not available in all countries. International subscriptions may be subject to approval based on local regulations and policies of country of obligation and Carta's capabilities, licenses, and regulatory approvals with respect to that country or jurisdiction. The offer is void where prohibited by law. The offer only has value when redeemed in accordance with all terms and conditions of the offer.

We use cookies to improve your experience
By clicking "Accept All Cookies", you agree to the storing of cookies on your device to enhance site navigation, analyze site usage, and assist in our marketing efforts.
View our cookie policy
.