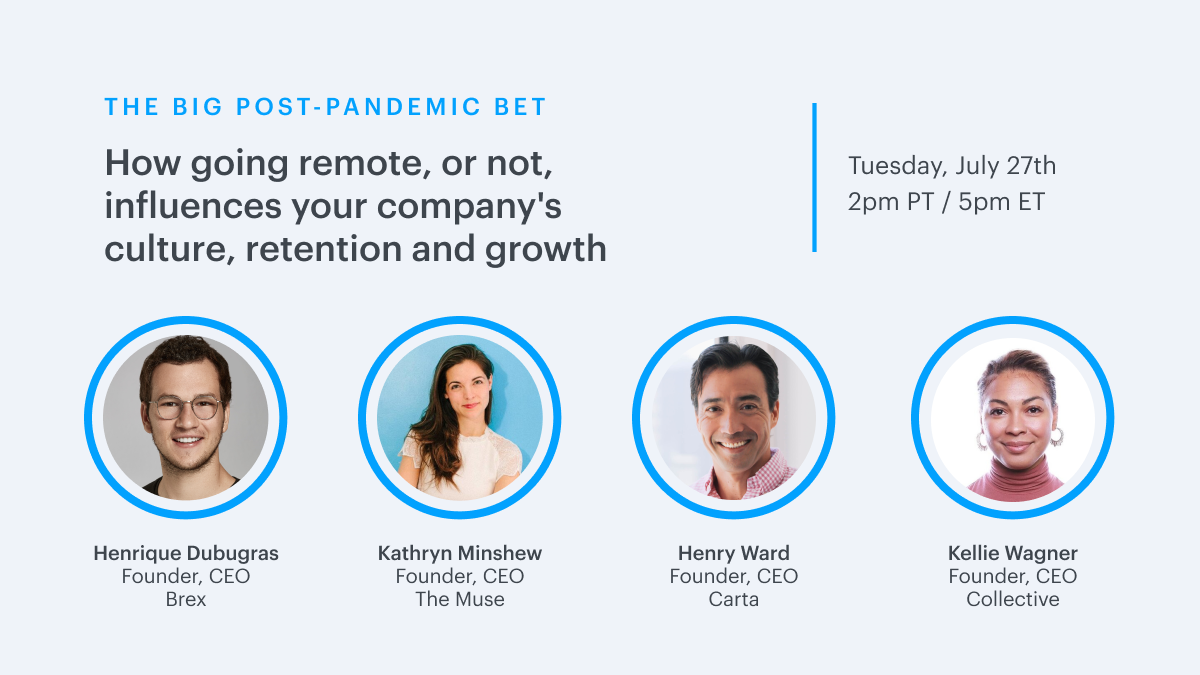 Companies worldwide are about to face one of the most crucial decisions in their history over the coming months: should they have their employees go back to the office, should they shift to a fully remote structure, or should they deploy a mixture of the two. This single decision will significantly influence every company's culture, retention, and growth.
Listen to three founder/CEOs who have started to put their thoughts into motion on this complex topic, and walk away knowing:
The model which best fits your specific company

The pros and cons of each one of these models

Industry and employment trends across the market
Speakers
Henrique Dubugras

CoFounder & CEO, Brex

Henrique Dubugras is Co-Founder & CEO of Brex — the first of its kind corporate card for startups. A Brazilian entrepreneur, Henrique built payments company Pagar.me, the Stripe of Brazil, when he was sixteen years old. In just three years, Pagar.me grew to $1.5 billion in volume of transactions processed.

Henry Ward

Founder & CEO, Carta

Henry is the CEO and co-founder of Carta, a software platform for founders, investors, and employees to manage equity and ownership. Since its inception in 2012, Carta has managed hundreds of billions of dollars in equity at more than ten thousand companies, helping companies manage their cap tables, valuations, portfolio investments, and equity plans.

Kathryn Minshew

Founder & CEO, The Muse

Kathryn Minshew is the CEO & Founder of The Muse, a career platform used by over 75 million people to research companies and careers. The Muse was recently named one of Fast Company's 50 Most Innovative Companies in the World and #3 Most Innovative Company for Enterprise.