Driving Innovation: Private Market Transactions on CartaX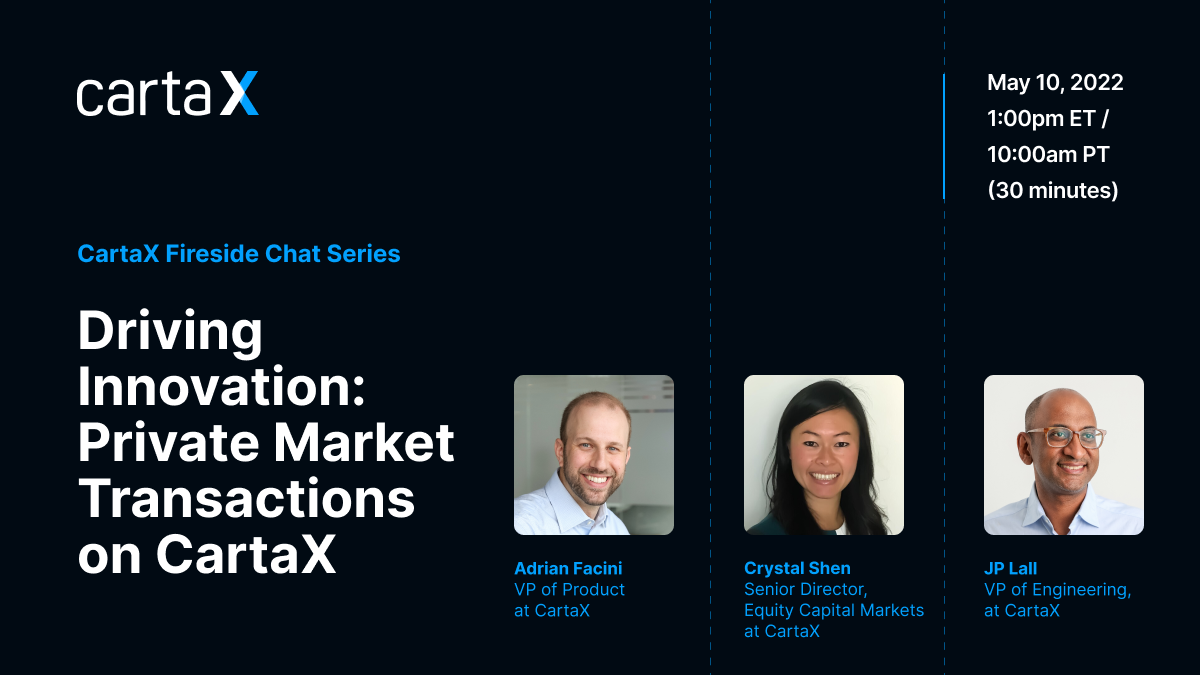 Carta, a leader in private equity management software, launched CartaX to help founders and C-suite leaders provide their employees and early investors an opportunity to realize the power of equity before an exit. CartaX offers companies a suite of secondary liquidity options targeted to firms who want to maintain control of their cap tables. How is CartaX innovating on private market transactions and standing apart from other liquidity providers?
Join members of the CartaX Leadership Team on May 10, 2022 at 1:00pm ET / 10:00am PT to learn how CartaX:
solves for customers' demands for speed, accuracy, and control through private market transactions;

reduces information asymmetry in a multi-sided marketplace to improve buy and sell side demand; and

offers companies multiple transaction levers to customize secondary liquidity solutions.
A brief Q&A session will follow. 
About CartaX's 2022 Fireside Chat Series
CartaX's Fireside Chat Series is an educational series focused on highlighting the thought leadership and market insights of the CartaX team. Each 30-minute live session will touch on hot topics impacting companies, investors and employees within the private market space, followed by a Q&A session.
DISCLOSURE: © Carta Capital Markets LLC ("CCMX") | Brokerage products and services offered by CCMX | All Rights Reserved | CCMX is an SEC registered broker-dealer and member of FINRA/SIPC, and is the operator of an Alternative Trading System (ATS) – CartaX – which facilitates the trading of the unregistered equity securities of private non-reporting issuers | CCMX is not a bank | CartaX is not a registered stock exchange | CCMX undertakes no obligation to update content herein | No business, investment, tax or legal advice is provided by CCMX | Potential investors are advised to conduct their own due diligence and consult with their tax, legal, and financial advisors with respect to any investment | All securities involve risk and may result in partial or total loss | Data and statistics provided herein may include data amalgamated between transactions facilitated by CCMX, and those facilitated by its affiliates There is no guarantee that a private company will conduct an initial public offering or provide an alternative exit strategy for your invested capital | Images are illustrative and may differ from application experience | See more important disclosures here.
Speakers
Adrian Facini

Head of Product, CartaX

Adrian Facini is the Head of Product for CartaX, the business unit within Carta that is unlocking the value of ownership in private markets. In his role, Adrian oversees the strategy, design, and product development of the Carta Capital Markets brokerage and CartaX transaction platforms. Prior to CartaX, Adrian was Head of Product at IEX Group, Inc., led product development at Bank of America Merrill Lynch, and was an engineer at Citigroup. He holds a bachelor of science (BS) degree in Psychology from Stony Brook University.

Crystal Shen

Senior Director, Equity Capital Markets, CartaX

Crystal Shen runs Equity Capital Markets (ECM) at CartaX, focused on advising companies and structuring liquidity programs. Previously, Crystal was Senior Vice President, ECM, at Jefferies, focused on origination and execution of private and public market transactions in the Technology sector. Crystal started her career at Lehman Brothers and Barclays, and served as a Teach For America corps member in New York City. She has a MBA from the University of Chicago Booth School of Business.

JP Lall

Head of Engineering, CartaX

JP Lall is the Head of Engineering at CartaX, a business unit within Carta that is unlocking the value of ownership in the private markets. In his role, JP builds and leads teams constructing the Carta Capital Markets brokerage and the CartaX transaction platforms. Prior to joining Carta, JP spent two decades at Goldman Sachs leading teams building equity trading platforms, ranging from low-latency to algorithmic to prime and clearing.