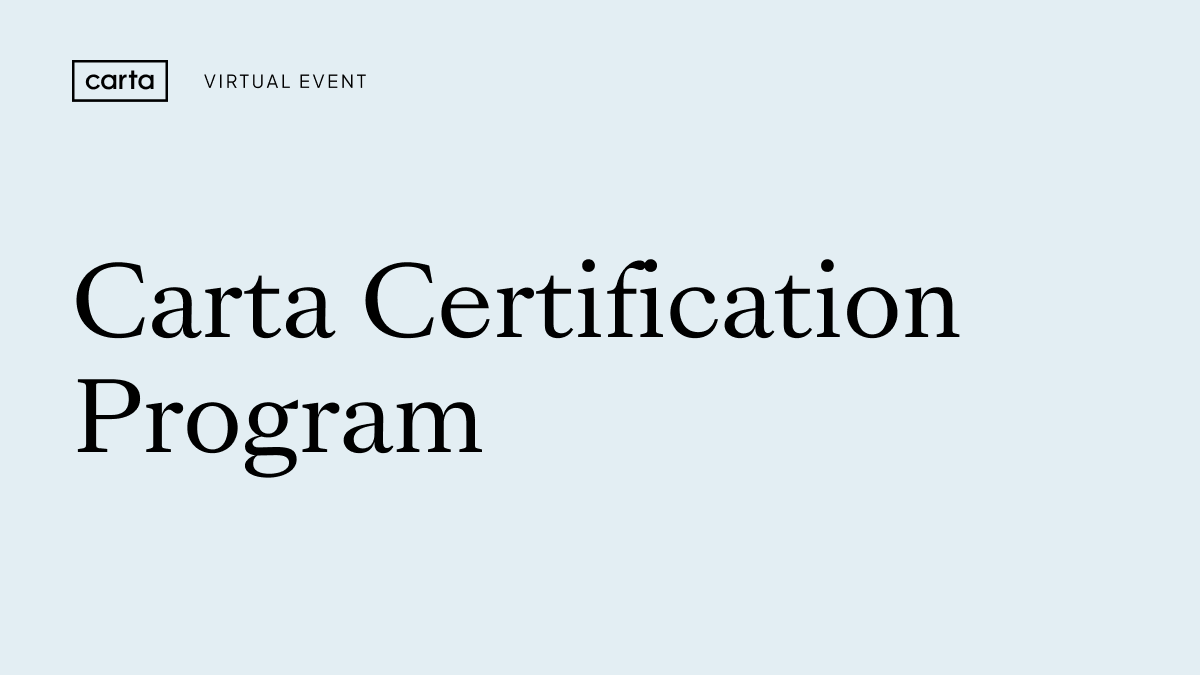 Sign up for the upcoming sessions.
Each level is split into 2 one-hour sessions.
The Carta Certification Program offers law firm and equity admin users free training on Carta cap tables to empower them to use our solutions to their fullest potential.
Take the training to:
Understand the tools and workflows to get things right – the first time
Complete the assessment to:
Demonstrate your expertise to clients and your firm so you can set yourself up for career success.
Gain a competitive edge by:
Promoting your Carta certification on social media, in your email signature, on your resume and more. Your certification will even show up on the Carta platform!
How is the training program structured?
The training consists of three tiers: Proficient (Level 1), Premier (Level 2), and Expert (Level 3). Each level is split into 2 one-hour sessions. Details are provided below:
Level

Content

Length

Requirement

Recommended Audience

Proficient

How to onboard a client; Managing account users; Drafting/issuing/modifying certificates; Transactions; Manage stakeholders (1/3); Reports; 409A page;

2 hours

Proficient level assessment

Paralegals, 

associates, equity admins
Premier

Reported issues; Vesting schedules (1/2); Add/amend an equity plan; Draft/issue equity awards; Option exercises; Manage Warrants/Note blocks (1/2); Manage stakeholders (2/3)

Prerequisite: Proficient Level

2 hours

Premier level

assessment

Paralegals, 

associates, equity admins
Expert

Account health checks; Vesting schedules (2/2); Canceling options; ISO 100K dashboard; Manage Warrants/Note blocks (2/2); Manage stakeholder (3/3); Form 3921, and more

Prerequisite: Proficient and Premier Levels

2 hours

Expert level assessment

Paralegal s

uperusers, associates, equity admins
Learn more about the program through the Certification FAQ guide.
Assessment tests
In order to get certified, you must go through an assessment test for each level. Once you participate the two trainings sessions for each level, you will be given a demo account link/credentials and a task list with the workflows that need to be reproduced in demo.
*After you have received the demo environment link, you will need to complete the assessment within 48 hours. Otherwise, the link will expire and you will need to request a new link to complete the assessment.
Schedule your assessment test!
*Prerequisite: Proficient level
**Prerequisite: Premier level
---
DISCLOSURE: This event is presented on behalf of eShares, Inc., dba Carta, Inc. ("Carta"). The content of this event is not, and no opinions or comments shared in this event should be treated or construed as, accounting, business, financial, investment, legal, tax, or other professional advice or services​​. This event is for information purposes only. The content of this event is not intended as a recommendation, offer or solicitation for the purchase or sale of any security. Carta does not assume any liability for reliance on the information provided herein and undertakes no obligation to update content. The opinions of the guests and host are their own and do not reflect the view of Carta or Carta's affiliates. All product names, logos, and brands are property of their respective owners in the U.S. and other countries, and are used for identification purposes only. Use of these names, logos, and brands does not imply affiliation or endorsement.