Round sizes and valuations are down: What can we expect in 2022?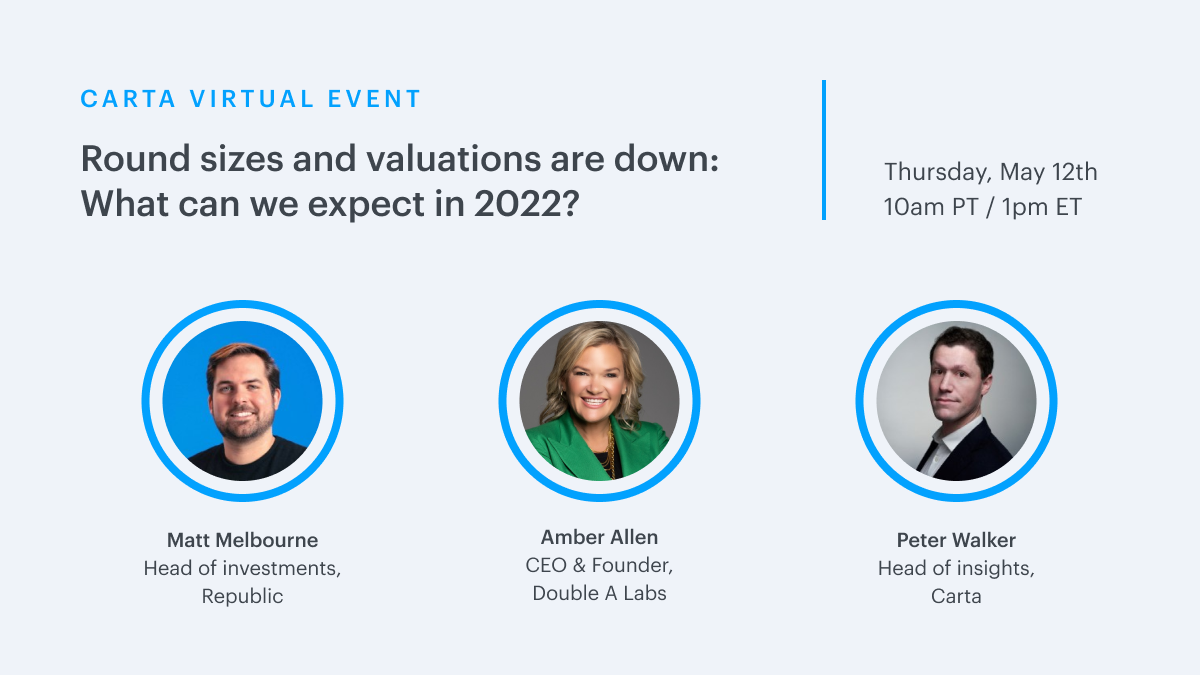 Carta's private market data suggests that Series A, B & C companies' round sizes and associated valuations are trending downward in 2022.
Join a live virtual event with the founder of Double A Labs, the head of insights at Carta, and the head of investments at Republic as we discuss these market trends—and how founders and investors can navigate them.
You'll learn:
Hypotheses and data analysis behind the downward trend
How interest rates, inflation, and geopolitical issues will affect VC
How to apply these insights during your next fundraise
The discussion will be followed by a live Q&A with our panelists.
DISCLOSURE: This communication is on behalf of eShares Inc., d/b/a Carta, Inc. ("Carta"). This communication is not to be construed as legal, financial, accounting or tax advice and is for informational purposes only. This communication is not intended as a recommendation, offer or solicitation for the purchase or sale of any security. Carta does not assume any liability for reliance on the information provided herein. By submitting your information, you agree to the processing of your personal data by Carta as described in Carta's Privacy Policy and consent to your registration information being shared with Republic for marketing purposes.
Speakers
Peter Walker

Head of insights, Carta

Peter Walker runs the Insights team at Carta, focused on discovering key data and narratives across the private capital ecosystem. In a former life, he was a marketing executive for a media analytics startup and led the data visualization team at the Covid Tracking Project. He fervently hopes to join Carta's #doggies Slack channel with a pup of his own someday soon.