The State of Startup Compensation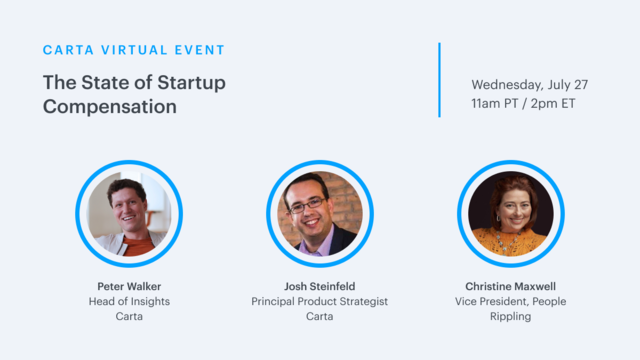 The startup landscape has gone through drastic changes in the first half of 2022.
Remote hires made up 62% of new hires in 2022, up from 35% prior to the pandemic. Metros such as Seattle and Boston have benefited from this shift to remote work as their salaries are now roughly on par with San Francisco's as location-based pay philosophies have evolved.
Keeping track of today's compensation market has become difficult for business leaders, but also crucial with the need to preserve capital in uncertain economic times.
Join us live on July 27th at 11 am PT / 2 pm ET where Carta and Rippling will talk about the important trends impacting companies today. During this session, we'll discuss: 
Creating a remote/hybrid compensation philosophy and trends by company valuation 

How the market is moving for in-demand roles

What payroll and headcount trends look like as your business scales
Speakers
Josh Steinfeld

Principal Product Strategist, Carta

Peter Walker

Head of Insights, Carta

Peter Walker runs the Insights team at Carta, focused on discovering key data and narratives across the private capital ecosystem. In a former life, he was a marketing executive for a media analytics startup and led the data visualization team at the Covid Tracking Project. He fervently hopes to join Carta's #doggies Slack channel with a pup of his own someday soon.