Fund Formation and Deployment of Capital: Guidance for VCs in 2022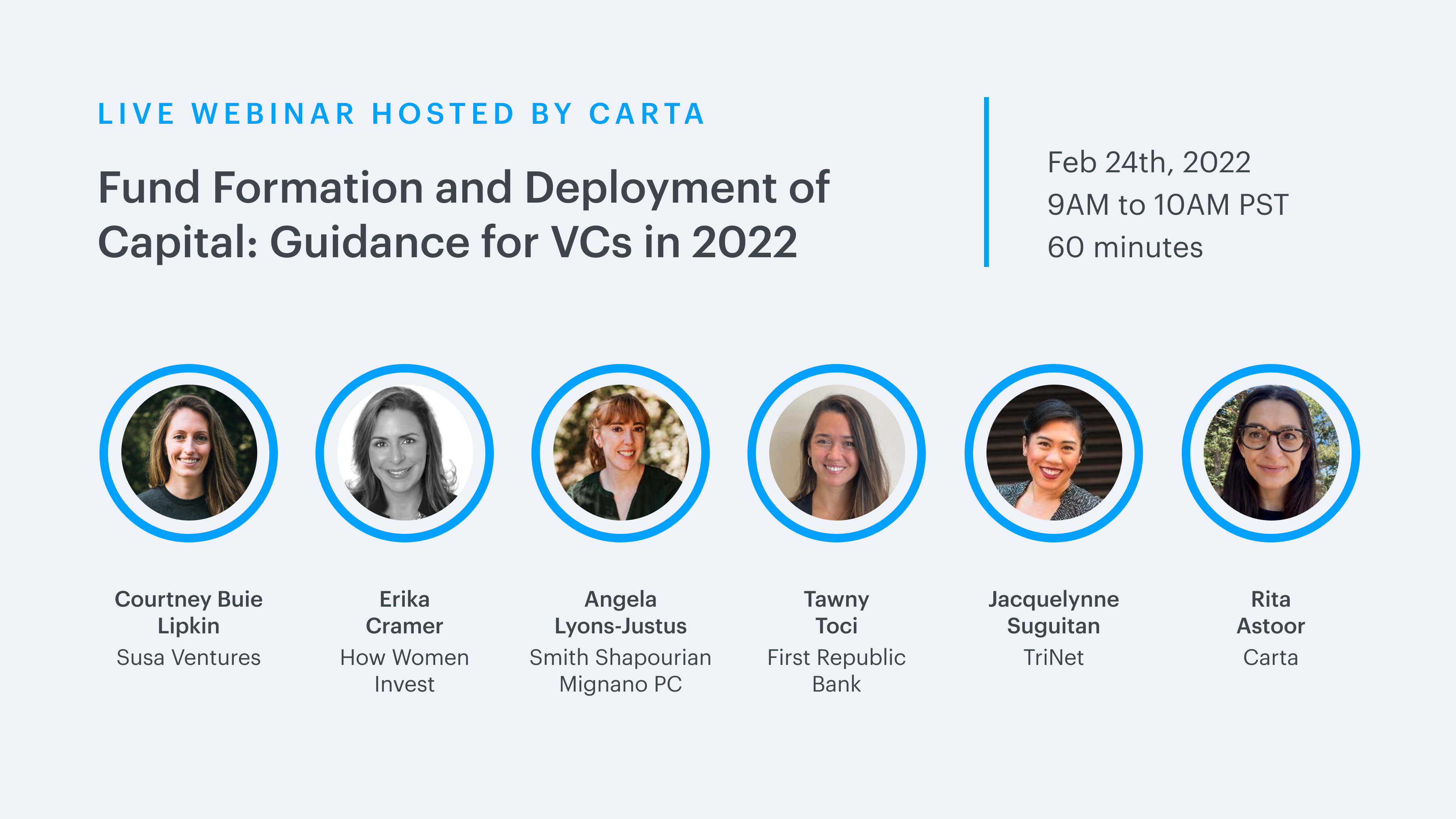 Learn about venture capital fund formation and investment from our panel of experts at Susa Ventures, TriNet, First Republic Bank, How Women Invest, Smith Shapourian Mignano PC, and Carta.
On this webinar, we'll talk about:
What to consider when structuring and forming venture capital funds
The various relationships between the fund and its limited partners, fund managers and portfolio companies
How to approach deploying venture capital, including different types of investment documents and terms, voting rights, preferred stock, and more
DISCLOSURE: This communication is on behalf of eShares Inc., d/b/a Carta, Inc. ("Carta"). This communication is not to be construed as legal, financial, accounting or tax advice and is for informational purposes only. This communication is not intended as a recommendation, offer or solicitation for the purchase or sale of any security. Carta does not assume any liability for reliance on the information provided herein.
Speakers
Angela Lyons-Justus

Smith Shapourian Mignano PC

Angela Lyons-Justus represents emerging companies and venture capital firms in note and priced round financings, and asset acquisitions. She is skilled in supporting entrepreneurs from incorporation through day to day operations, product development, and partner agreements and negotiations. In her practice supporting both companies and investors, she is especially attuned to deal structures and diligence reviews so as to enable positive returns for both parties.

Before joining Smith Shapourian Mignano PC, Angela practiced at a PitchBook highly-ranked emerging company and venture capital law firm. Angela is also familiar with the challenges startups face in their growth, having worked in a unicorn-rated business prior to her legal practice.

Angela is a Bay Area native and is currently located in Oakland. When she is not practicing law she enjoys spending time with her rescue tri-pawd, skiing in Tahoe and attending meditation retreats.

Courtney Buie Lipkin

Susa Ventures

Courtney Buie Lipkin joined Susa Ventures as a Partner in November 2019. She is responsible for leading new investments, supporting the existing portfolio, and developing new initiatives to deepen relationships with the broader startup community. Courtney invests across all sectors and verticals, but is particularly interested in companies changing foundational industries like real estate, transportation and logistics, insurance, and finance. Prior to joining Susa, Courtney was at First Round Capital, where she sourced new investments and helped curate Angel Track, their program for emerging angel investors. Courtney studied International Relations as an undergraduate at the University of Pennsylvania and in graduate school at Stanford University.

Erika Cramer

How Women Invest

Erika Cramer is an accomplished investment banking executive, advisor, and board member who leads corporate objectives and turnarounds through 25+ years in M&A, recapitalizations, capital raising, divestitures, succession planning and valuations. While serving as Partner and Chief Compliance Officer at Silver Lane Advisors LLC, Erika completed 52 transactions involving over $240B in assets under advisement/management (AUM) exchanging hands. She has raised capital for alternative investment products and early stage fintech firms. Erika is currently a Board Director and Audit Chair of the country's oldest African- American life insurance company, Atlanta Life Insurance Company. Erika is an Advisory Board member at OpenInvest, a venture-backed fintech asset manager focused on impact investing. She also serves as Board Director of Trips for Kids Marin, which provides cycling experiences for underserved youth. Erika is a Committee Member and Angel for the Northern California Chapter of 100 Women in Finance. Erika earned an MBA in Finance at Pace University and a bachelor's degree in Finance from West Virginia University. She is a triathlete, marathoner and avid cyclist – a wife and mother to two daughters.

Jacquelynne Suguitan

Trinet

Jacquelynne Suguitan is a Sr. Technology Consultant for TriNet where her primary focus is assisting founders on HR and increasing employee engagement, while lowering overall operational costs. TriNet is the leading strategic HR partner in the Bay Area supporting companies such as Ring, DollarShave Club as well as VC backed start-ups.

Previous to TriNet, she worked closely with CPAs and accountants helping bootstrap startups to Series A companies. She's a SF native and spends her free time volunteering by teaching Zumba.

Rita Astoor

Carta

Rita Astoor is the Head of Investment Management Partnerships and a Product Advisor at Carta. She leads the business development strategy and operations for Carta's investment management services, engaging law firms, tax & audit providers, banks, asset managers, and other partners across the venture ecosystem. She also works closely with the product team to build products that solve our clients' needs.

Prior to joining Carta, Rita was an investment funds associate at a global law firm in New York City. She worked closely with venture capital, private equity, and hedge fund sponsors in forming, launching, and managing private investment funds. Rita obtained her B.A. at the University of California, Berkeley and J.D. at New York University School of Law. She enjoys hiking with her dog Ruby.

Tawny Toci

First Republic Bank

Tawny Toci is Senior Director of Tech Banking at First Republic where she focuses on the banking needs of the startup ecosystem at large. Her ability to understand and support tech clients is informed by over a decade of operational experience working with early and mid-stage startups. Prior to joining the bank, Tawny spent five years as an executive at an ecommerce photo printing company and a digital design agency. Previously she was Partner at Andreessen Horowitz where she helped build the firm's early stage program, proactively sourcing deal flow and managing a portfolio of 300+ seed stage investments.
Tawny earned a BA in Anthropology from Harvard, is a Northern California native, and a mother to two young boys.