[On-demand] Launching a venture capital fund: Avoiding pitfalls and an innovative success story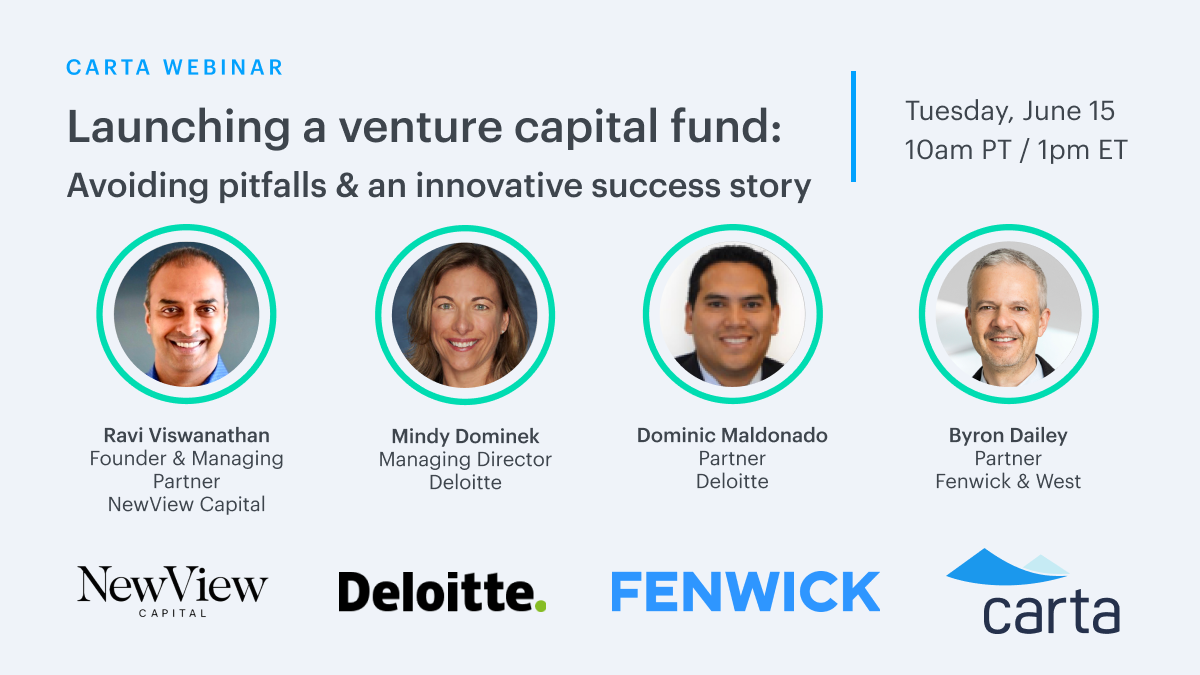 Watch our panel discussion with venture capital industry leaders from NewView Capital, Deloitte, and Fenwick, as they discuss the common tax, audit, and regulatory traps and pitfalls that many first time venture capital fund managers fall into.

The panel discussion begins with a brief review of some of the most common mistakes that fund managers make when launching VC funds.  Next, the session moves to a fireside chat with Ravi Viswanathan from NewView Capital where Ravi discusses his experiences launching NewView.

The session closes with a Q&A discussion featuring questions from participants to Ravi and partners from Deloitte and Fenwick.
Speakers
Byron Dailey

Partner, Fenwick

Byron leads Fenwick's private investment funds practice. He counsels venture capital, private equity, corporate VC, impact funds, incubators, venture studios and other investment fund clients—at all stages and sizes—on fund formation, seamlessly guiding fund managers through the fundraising and investment process.

With over 20 years of experience structuring and negotiating domestic and international business transactions, Byron also advises on mergers and acquisitions, social enterprise, nonprofit, corporate, securities and commercial matters. He has significant background in working with complex limited partnerships, limited liability companies, B corporations and impact investing structures.
Byron is known for delivering responsive advice, equipping clients to make practical business decisions and providing solutions that minimize risk while taking into account clients' economic and strategic goals. He is skilled at navigating business, legal and cultural issues in all regions of the world having handled a wide variety of transactions involving dozens of countries on six continents.

Byron's past experience includes working for several years in the New York office of a Global 200 firm, and as partner in the Seattle office of another leading international firm. Most recently, he was partner at one of the Pacific Northwest's oldest firms, where he served as chair of its private investment funds team and co-chair of its nonprofits and social enterprises team.

He currently serves on the board of directors of World Bicycle Relief and recently served on the Host Committee for Global Washington's Annual Conference.

Byron received his J.D., with honors, from Ohio State University Moritz College of Law. During law school, he served as editor-in-chief of the Law Review. Byron received his M.A. in philosophy from the University of Wisconsin-Madison and his B.A. in music and philosophy from Indiana University School of Music.

Byron is admitted to practice in Washington and New York.

Dominic Maldonado

Partner, Business Tax Services, Deloitte

Dominic has over 24 years of experience in corporate and partnership taxation, providing tax advisory services to both public and private companies, which range in size from closely held family businesses to multinational corporations but has spent substantially all of his career focused on serving clients in the Venture Capital, Private Equity, and Fund-of-Funds space. Dominic spent his time serving real estate, investment fund and start-up technology companies in his early years at Arthur Andersen and began co-leading Deloitte's Bay Area Investment Management Fund practice and focus upon joining the firm in 2002.

Dominic's extensive knowledge in the investment management space includes providing tax efficient solutions for closed and open-ended onshore and offshore investment funds as well as special purpose vehicles/joint ventures; mergers and acquisitions; equity and debt financing of investments and investment vehicles (for both traditional and special asset classes); and inbound and outbound investment acquisitions and dispositions.

Mindy Dominek

Audit Managing Director, Deloitte

Mindy Dominek is the Audit Managing Director for Financial Services & Investment Management at Deloitte.

She has over 24 years of experience in public accounting, serving clients across a wide spectrum of financial services, from investment funds and advisors, to banks, broker dealers, fintech lenders, and other financial institutions. 
In addition to financial statement audits, Mindy has experience with examinations of internal controls over financial reporting under Sarbanes-Oxley 404, service auditor reports for broker-dealers and investment fund administration (SSAE 18 attestations), and custody exams. 
Mindy spent five years in Deloitte National Office as part of the Internal Inspections group leading the inspections of financial services engagements across the firm.  She currently provides support to audit professionals around all aspects of audit quality.

Ravi Viswanathan

Founder & Managing Partner, NewView Capital

Ravi is an experienced company builder and dedicated partner to entrepreneurs and investors. In 2018, Ravi raised $1.35B to architect an innovative portfolio acquisition of 31 companies from NEA to found NewView Capital (NVC). Today, with over $2B under management, NVC invests in technology companies through both direct investments and curated portfolio acquisitions, pairing funding with significant operational support. Focusing primarily on growth-stage companies, the NVC portfolio includes Plaid, Duolingo, Forter, Hims & Hers, MessageBird, and Scopely.

Prior to founding NVC, Ravi was a General Partner at NEA, where he oversaw investment in enterprise software and fintech companies and co-led the firm's Technology Venture Growth Equity effort. His investments of note include Braintree (acquired by PayPal), MuleSoft (acquired by Salesforce), GlobalLogic (acquired by Apax Partners), TeleAtlas (Euronext: TA, acquired by TomTom), Cyence (acquired by Guidewire), Acquia (acquired by Vista Equity Partners), Scout (acquired by Workday), Plaid, and Forter. Ravi spent several years at Goldman Sachs in the Private Equity Technology Practice before joining NEA. He began his career in consulting at McKinsey & Co and as a scientist at Raychem Corporation.

Ravi holds an MBA from Wharton, a PhD in Chemical Engineering from University of California Santa Barbara, and a BS in Bioengineering from the University of Pennsylvania. He is also the Chair of the Wharton Entrepreneurship Advisory Board.