Carta, Inc. cleared $99.7MM in value between 400+ market participants and 52 investors at a $6.9B implied valuation, representing a 2.2x increase in implied valuation to Carta's last primary.
Private markets liquidity is here
Carta has created a new paradigm for using equity to attract, incentivize, and retain talent, solving for the liquidity problem that has historically existed in the private markets.1 In its mission to create more owners, Carta has built the solution: Carta Liquidity provides a vertically integrated platform for recurring liquidity events that is designed to deliver exceptional service and outstanding results. Carta held the first auction for its own stock using Carta Liquidity in January 2021.
It is an odd artifact of history that private markets have zero liquidity, public markets have hyper-liquidity, and there is nothing in between.
Henry Ward, CEO
Carta
Overview
The market for talent has never been more competitive. Employers compete based on employee experience, cash compensation, and equity incentives, among others. As Carta grows, its competitive set has changed to larger, public companies, but the compensation playing field is not level among them, as public competitors offer employees fully liquid equity. Carta has run tender offers in the past to help employees realize equity value, but they were high-effort transactions that occurred months after a primary. In a world of exponential growth rates, this means that Carta's employees did not get the benefit of their operational execution during these tenders – price discovery was absent. More importantly, employees were not able to consistently predict when liquidity would be available.
Carta had the following objectives in mind as the company designed a structured liquidity program for the future:
Recurring employee liquidity: Reducing the risk around equity comp to attract and retain top talent, without the time and cost of a tender offer
Mature investor relations: Expand Carta's investor network beyond the traditional venture ecosystems to aid in the strategic growth of the company
Market-driven pricing: Reprice Carta's valuation given favorable macro backdrop without dilution and increase participation compared to arbitrarily priced tender offers
Reducing the burden of disclosure: alleviate the burden associated with disclosure for liquidity events without quarterly earnings calls and regulatory filings of public exchanges
The future of private markets liquidity
Carta concluded its first Carta Cross2 successfully clearing $99.7MM in value between over 400 market participants and 52 investors at a $6.9B implied valuation, representing a 2.2x increase in implied valuation to Carta's last primary. Carta, its shareholders, and investors await the remaining three quarterly transactions throughout the rest of 2021.
Transaction parameters
Carta structured its Carta Cross by thinking through how much volume the company was comfortable permitting to transact on Carta over the next year. The Carta Liquidity team provided data-driven insights and market trends to help Carta help determine the right liquidity profile for the business. Carta also decided as a company to offer recurring liquidity, adopting a quarterly transaction cadence made possible by the low-touch liquidity solution on Carta. Now, employees, ex-employees, contractors, and early investors may be eligible to sell a portion of their equity on a recurring basis.
Based on a target of 6%-8% of fully diluted shares trading on an annual basis, Carta settled on the following participation caps for each shareholder group in the first few auctions:
| | |
| --- | --- |
| Seller relationship | Participation cap |
| Exmployees | 20% |
| Ex-employees | 10% |
| Affiliates/insiders | 10% |
| Investors | 5% |
By offering an alternative to public liquidity combined with the potential of private company growth curves, Carta's compensation packages combine the best of both worlds in the war for talent.
Process and timeline
The Carta Liquidity team worked closely with Carta on an efficient onboarding process. Once approved, Carta spent the next four weeks leveraging the Carta Liquidity investor platform to present an Investor Day, host a live Q&A session, and conduct strategic meetings with investors that Carta considered possible long term partners for the business. Once the transaction launched (a few days after the Investor Day live Q&A), a standard 13 business day auction3 opened for buyers and sellers to place orders in the Carta auction.

Investor Day
Carta held a remote Investor Day to tell its story to a group of institutional and other sophisticated investors that expanded beyond its traditional, existing venture investor base. The Investor Day, hosted by Carta Liquidity, enabled Carta's management team to reach a broader group of investors in a single event versus embarking on a traditional repetitive "roadshow". Carta leveraged the Investor Day event platform to quickly measure investor engagement and sentiment and be proactive with those investors most engaged and interested in Carta's business.
The Carta Liquidity event platform facilitated participants' access to all trading disclosures and business metrics. Carta maintained control over the information disclosed symmetrically to all parties by making use of the access controls like watermarking, and restricting download. Having full control over disclosure and participant eligibility eliminated any concerns about asymmetrical information being made available to certain participants in the context of the auction.
Only 10% of investors invited were existing investors on Carta's cap table. Through the Investor Day and auction, Carta expanded its investor reach to include over 100 institutional asset managers, hedge funds, family offices, sovereign wealth funds, direct secondary funds, and other sophisticated investors. Carta and Carta Liquidity are excited to see how this diverse group of investors, many of whom may have had limited access to invest in later-stage private companies before, will add strategic value to Carta's mission to provide liquid equity for all.
Carta Investor Day
Invited investors by investor type: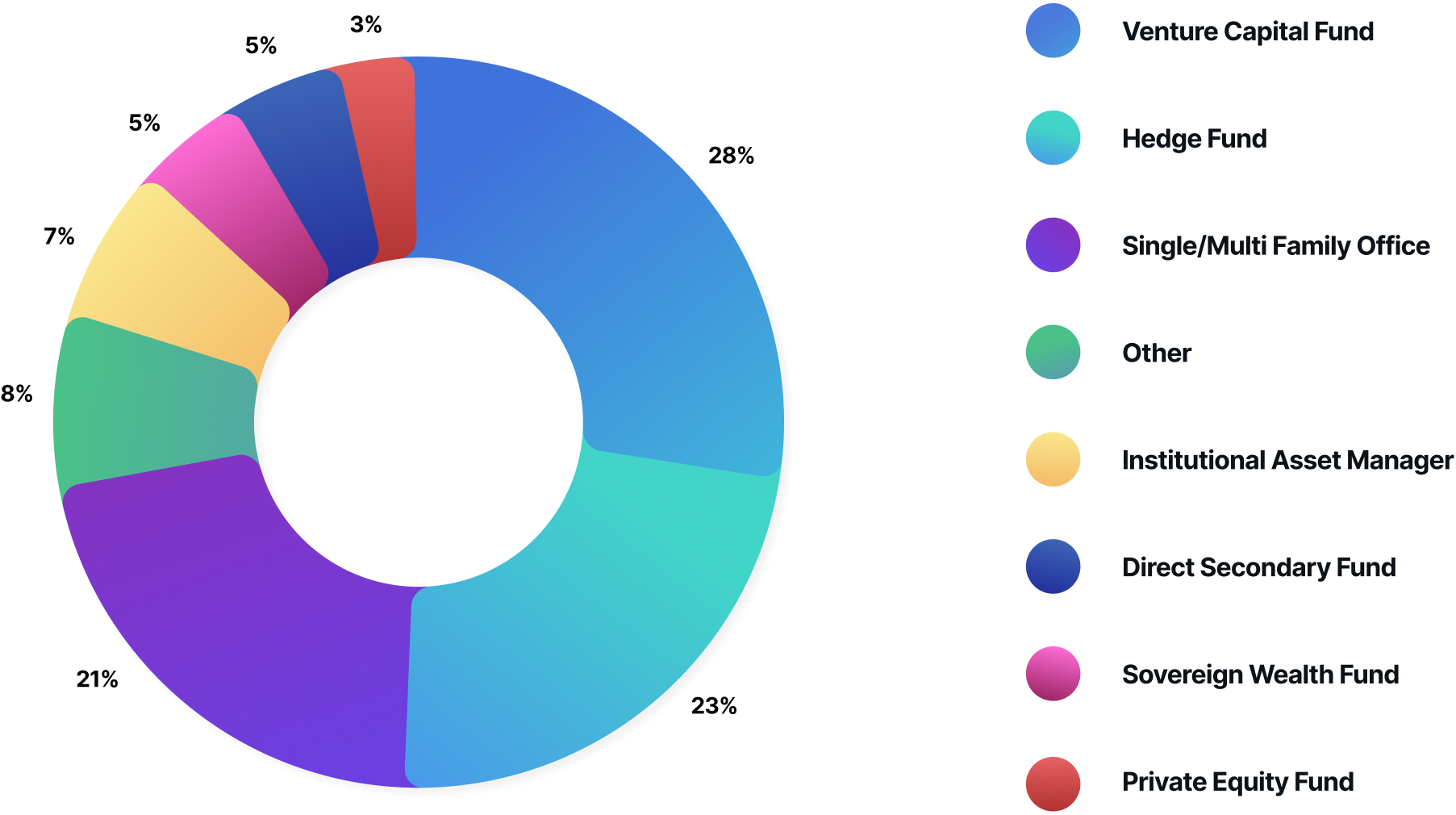 Results
Price discovery
The price discovery process was facilitated through the Carta Cross. The Carta Cross cleared successfully at an implied $6.9B valuation, a 2.2x premium to Carta's last implied valuation following their last primary raise in June
2020.
Carta effectively obtained a repricing without the dilution associated with primary financings. This increased market value of Carta's stock may provide leverage as Carta looks towards structuring equity grants and a potential M&A currency.

Carta traded $99.7M of common shares at a $6.9B new valuation in its Carta Liquidity debut, a 2.2x premium to its last preferred round
Carta's first auction on Carta Liquidity exceeded expectations, further exemplified by strong buyer demand and seller engagement, reaffirming Carta's mission to provide liquidity to the private markets with Carta Liquidity.
| | | | |
| --- | --- | --- | --- |
| Seller relationship | Participants | Seller trade rate | Transaction volume ($M) |
| Employees | 253 | 91% | $33.6 |
| Ex-employees | 188 | 95% | $13.2 |
| Investors | 150 | 86% | $52.8 |
As a Carta Liquidity onboarded company, Carta has already committed to recurring auctions to continue to deliver on its mission to return value to its employees and investors. Looking ahead, Carta can use the Carta Liquidity platform to transact other forms of equity, including RSUs, and primary raises as well. Carta employees, investors, and founders all eagerly await the next transaction.
Carta Liquidity gave us efficient access to a broad set of investors, unlocking demand that we could never have efficiently accessed before. Proud to be the first to onboard on Carta Liquidity.
Charly Kevers, Chief Financial Officer
Carta
Liquidity will be the most sought after employee benefit for the most competitive private companies.
Suzy Walther, Chief People Officer
Carta
Glossary
Certain terms used in the piece entitled "Carta, Inc. Auction case study: January 2021" available here, may carry different meanings to how those terms might be used in other contexts, for example in the context of public markets, primary capital raisings, or initial public offerings. An explanation of such terms in this context may be found below.
Liquidity refers to periodic auctions made available through the existence of Carta Liquidity for permissioned shareholders of certain restricted securities to sell those securities in the secondary market. Liquidity in this context does not mean that there is an open and continuous market akin to publicly traded securities.
Onboard to Carta Liquidity refers to the status of certain companies who have taken the necessary steps to authorize their shares for trading on Carta Liquidity, including applying to do so, and passing the quantitative and qualitative due diligence reviews imposed by CCMX before being authorized to configure a transaction in their securities on Carta Liquidity. "Onboarded to Carta Liquidity" does not constitute an endorsement by CCMX of the investment-worthiness or otherwise of that company's stock, and does not constitute a company's status as having completed an initial public offering nor direct listing on a national securities exchange.
Investor Day: Company Presentations refers to pre-recorded annual presentations by the company's executive leadership team which are made available to potential investors in advance of the transaction on Carta Liquidity so that investors have full disclosure of company information before making their own investment decisions as to whether or not to participate in the transaction.
Investor Day Live Q&A refers to the question and answer portion of the Investor Day event facilitated by CCMX which allows prospective investors in a Carta Liquidity auction to ask questions of the company's executive and senior management team.
Investor 1:1s refers to scheduled meetings between the company's executive leadership team and prospective investors on a 1-to-1 basis.
Transaction Launch refers to the commencement of a transaction on Carta Liquidity and the start of the order entry period.
Transaction Execution and Settlement refers to the conclusion of an auction on Carta Liquidity at which point the clearing price is calculated and marketable orders are executed, and to the related processes employed to affect the changes in beneficial ownership of securities and movement of cash necessary to settle a transaction.
1 The new framework incorporates services by Carta, Inc. as a provider of cap table management services and transfer agent and Carta Capital Markets, LLC as a broker-dealer operator of the Carta Liquidity (fka CartaX) platform.
2 Carta Cross is the Carta Liquidity auction process, designed to efficiently identify a market driven price and allow equity holders to sell holdings to investors. "Cross" is used in the world of financial markets to indicate that it is a method for matching supply and demand to arrive at a market clearing auction price.
3 Subject to extension.
4 Relative to a $3.1BB implied valuation following Carta's Series F Preferred primary capital raise in June 2020.
Under US securities law, every offer and sale or resale of a security must either be registered with the SEC or exempt from the registration requirements of the Securities Act of 1933 (the Securities Act). However, private sales of unregistered securities may occur subject to statutory exemptions and certain codified common law exemptions, and as such, all transactions facilitated on Carta Liquidity qualify under one or more appropriate secondary market registration exemptions. Securities purchased on Carta Liquidity are not freely tradeable. No public market exists for securities traded on Carta Liquidity and that there can be no assurance that a public market for such securities will ever exist. Securities purchased on Carta Liquidity may not be transferred unless such securities are registered under the Securities Act or other applicable securities laws or unless exemptions from such registration requirements are available. Only the Issuer of securities traded on Carta Liquidity may file a registration statement with the SEC or other applicable securities commissioners and the company is under no obligation to do so with respect securities traded on Carta Liquidity. Exemptions from registration may not be available to purchasers of securities on Carta Liquidity, and therefore they may not be able to transfer or sell all or any of the securities in the future.
In order to be able to trade on Carta Liquidity, a participant must either be (i) a shareholder of an company whose shares are being traded on Carta Liquidity and be specifically permissioned by the company to sell some or all of Customer's shares in a particular transaction, or (ii) an investor specifically permissioned either by the company to participate in a particular transaction. Carta Liquidity is not a continuous market. Transactions facilitated on Carta Liquidity are bilateral in nature, and there is never any guarantee that there will be sufficient counterparty interest to result in crossing interest. CCMX does not guarantee whether, nor the terms on which, any order may be filled. There is no guarantee of a participant being permissioned to participate in future transactions on Carta Liqudidy.
Certain terms used herein may carry different meaning to how those terms might be used in other contexts, for example in relation to public markets, primary capital raisings, or initial public offerings. An explanation of such terms and their respective definitions in this context may be found here.
While not directly compensated for the testimonials herein, testimonials are provided by executives of Carta, Inc., which is the parent company of CCMX. Testimonials may not be representative of the experience of other customers and past performance is no guarantee of future performance or success of future transactions on the platform.