The general partners of Emmeline Ventures built their investment thesis around a simple observation: Although women are half the world's population, they're underserved by the tech sector. Azin Radsan van Alebeek, La Keisha Landrum Pierre, and Naseem Sayani founded Emmeline to put more money in the hands of women entrepreneurs—and to improve the lives of women all over the world by funding companies that would help women manage their health and build their wealth.  
We spoke with the partners about why they believe companies focused on women's needs represent a unique arbitrage opportunity in VC.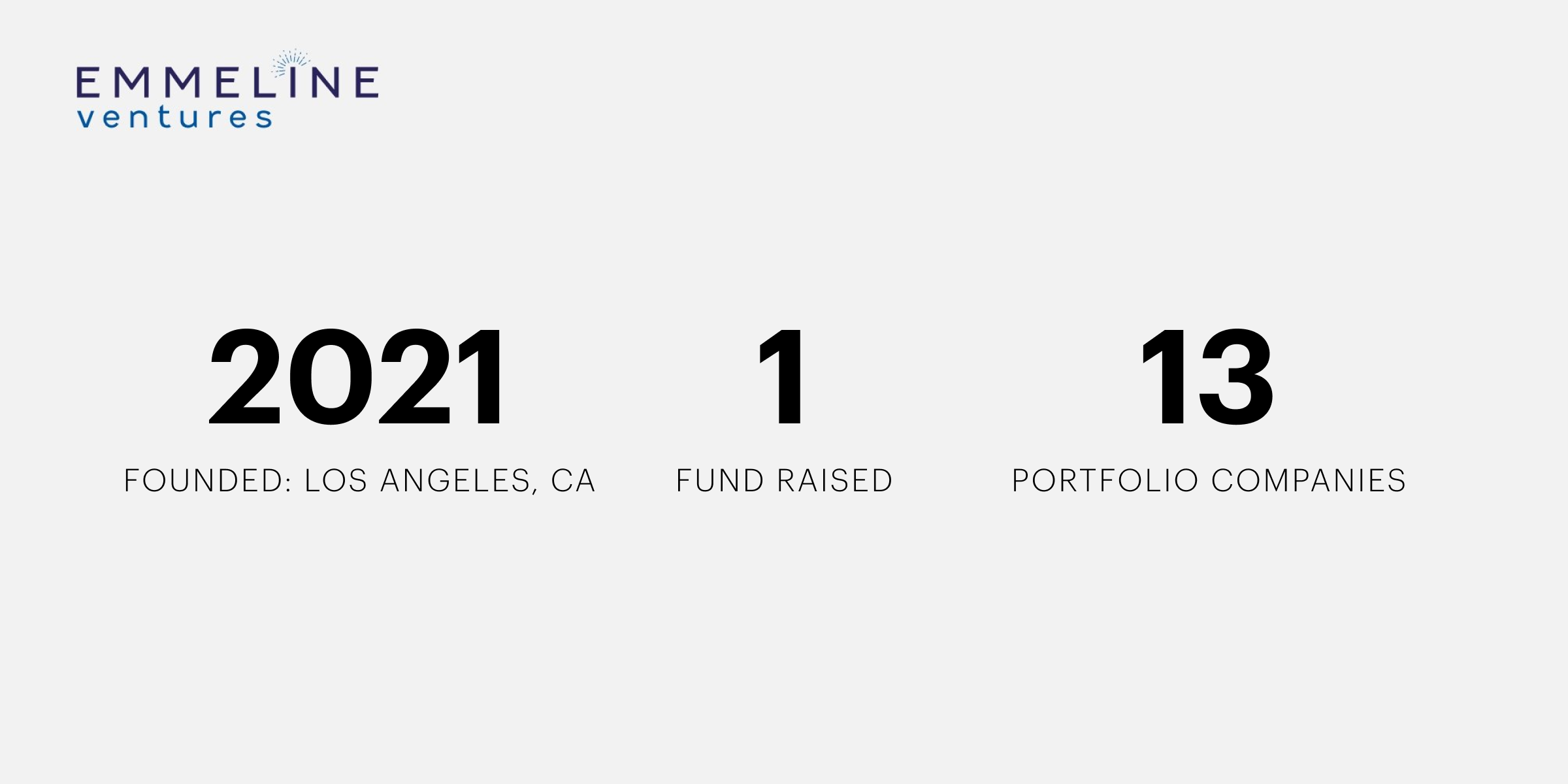 Nigeria Talley: How did Emmeline Ventures get its name?
Naseem Sayani: We wanted to find a name that we could bring meaning to: something that didn't currently have attachments or baggage or connotations. So we all went looking for names. 
We started to come across this name, Emmeline, in different stories. One of the first suffragettes in Britain was named Emmeline Pankhurst. There's a scientist named Emmeline [Hill] who figured out the genes that determine the speed of a racehorse. And there's a novel called Emmeline: It's about a woman who went against the tide because she didn't want to get married and have kids. She wanted to own a business; she wanted to grow; she wanted to do her own thing. We kept coming across this name, and it was always referencing these women who had strength and power, women who were filling the rooms they were in. We sat back and said, "So that's the name, right?" Emmeline is this figure who represents all of the value that we're trying to bring to the women we fund, to the future we're trying to make, to the women that we want to build the world for. 
Nigeria: Your investment thesis targets female founders whose businesses "empower women to live healthier, wealthier, cleaner, and safer lives." Could you unpack that for us? 
Naseem: The underlying mission for our thesis has two planks: First, we want to invest in what we call core rewiring. We're not only trying to solve for pain in current systems. We actually want to rewire those systems. We want to change how the world works from the ground up. That brings us to the second plank: We want to fund a world where women have more agency—where they have more ability to act on their healthcare, build generational wealth, and have clean digital and physical environments. If we can fund those three areas, then the women who come after us are living in a world that looks better than the world we live in today.
Azin Radsan van Alebeek: It's also because 97% of male VCs tend to overlook these areas. So it's something that's compelling to do—it's going to have a huge impact—but it's an arbitrage opportunity, as well, because no one's looking there.
Nigeria: Could you provide us an example from your portfolio and explain how it aligns with your thesis?
La Keisha Landrum Pierre: When we think about a woman managing her health, we think about a company like Infiuss Health: They've taken on a very real challenge, which is that clinical trials here in the U.S. are severely lacking diversity. This actually has long-term implications because the dosage and recommendations on the method of treatment are a function of the clinical trials. Infiuss Health is bringing diverse participants into the very early clinical trials setting, so that people are not negatively impacted by treatment recommendations.
The founder of Infiuss Health said what really inspired her was her work as a nurse: She would take the treatment recommendations, travel abroad, and administer the dosage to her patients—and they would become severely ill. And her thinking was, "How is it that we're using a very narrow set of data and applying it globally, without factoring in how it negatively impacts others?" So she has created a solution for bringing in diverse participants at the very early stages of clinical trials, such that the data coming out of the clinical trials will include diverse candidates and diverse recommendations.
Nigeria: What are your key focus areas for evaluating founders? 
Azin: For me, coachability and financial acumen; expertise in the industry that they're in; and an undying passion and commitment to what they're doing. You can meet people who think they have a really great idea, and they're excited. And then there are those people you know are going to be doing this until it blossoms. 
Naseem: The other thing is an ability to really tell the story well. We meet a lot of founders where in the first meeting, they tell the story and we tell it back to them. And they say, "No, that's not what I mean." So we're doing a lot to help cultivate and coach that skill, as it's critical to selling us—and even more so, the market.
Nigeria: Are there particular issues women face that you'd like to see more tech solutions for?
Naseem: One area where we have two investments is the future of care. There is a fundamental shift coming. There was a problem with access to care before the pandemic. It became exacerbated during the pandemic, and now we're in a place where remote work is much more commonplace. Care options have changed or have closed completely. And employers are in a place where retention is a really big deal. So let's rethink the entire way that we support working families—because it's no longer a world where your care options are near your home and then you drive 20 minutes to work. We need more flexibility. 
Even from a payment standpoint, child care has historically come from family wallets. But now, as corporations are trying to keep their teams, it's got to start coming from corporate wallets. And it's not just for women—it's for men, as well. Paternity policies are a much bigger deal now. So if we can bring more technology to how that whole system gets built—and understand what care options are available on the ground, what hours people are working, where they're working, and what it costs to support that system—that would be super exciting because we're talking about completely changing how people think about their work lives and their home lives. It's not two separate things anymore.
Nigeria: What advice would you give women aspiring to become fund managers?
Naseem: What I would say is just do it: Figure out what your thesis is, find some founders that you can team up with early, and then start to work the mechanics and get the ops in place.
I think what's really working to our advantage with LPs right now is that we made 13 investments already. We have founders that we're deeply embedded with. We've invested in great companies that have great traction. So yes, it's our first official raise, but we have a track record coming from the companies that we've already been engaged with—they can go look them up and see the news. Our ability to choose and our ability to find quality is proven, even if we haven't had exits.
Investing in companies before we started to raise has been a really big win for us. So I would tell any other new emerging managers to do that. It doesn't have to be 11 or 12 companies, but find three or four that matter to you. And then use them as your talking points when you're starting to raise—it makes a big difference with LPs.
La Keisha: To add to that, I think so often as women who want to get into VC, you think there's heavy lifting to get started—some version of climbing Mount Everest. And the reality is that isn't the case. You can get involved in the resources, and the ability to begin investing exists today, right now. So starting to build out a portfolio—I couldn't agree more.
Azin: If this is a space that you're interested in and you want to make a difference, figure it out and take the next steps. What's been so interesting is that since we started, all the resources that have become available, all of the advisors and other people who are so excited about what we're doing—we would've never known that these people and these resources existed if we didn't just jump in. 
DISCLOSURE:
This communication is on behalf of eShares Inc., d/b/a Carta Inc. ("Carta").  This communication is for informational purposes only, and contains general information only.  Carta is not, by means of this communication, rendering accounting, business, financial, investment, legal, tax, or other professional advice or services.  This publication is not a substitute for such professional advice or services nor should it be used as a basis for any decision or action that may affect your business or interests.  Before making any decision or taking any action that may affect your business or interests, you should consult a qualified professional advisor.  T
his communication is not intended as a recommendation, offer or solicitation for the purchase or sale of any security. Carta does not assume any liability for reliance on the information provided herein. 
©2022
eShares Inc., d/b/a Carta Inc. ("Carta"). All rights reserved. Reproduction prohibited.