Millions of private companies exist in the US. Some are large corporations with hundreds of shareholders; others are closely held. Some of these companies are early-stage and unprofitable, whereas others are well-established with stable earnings. 
The valuation tool below is meant for private companies that are profitable. It uses the capitalized cash flow method, which requires discounting the company's future cash flows at a calculated rate. We're also working on a methodology for unprofitable companies that we hope to release soon.
This tool is meant to provide a guideline for you to think about the value of your business. Carta's corporate valuations team offers more robust valuation reports that you can use to issue options (if you're a corporation) and profits interests (if you're an LLC).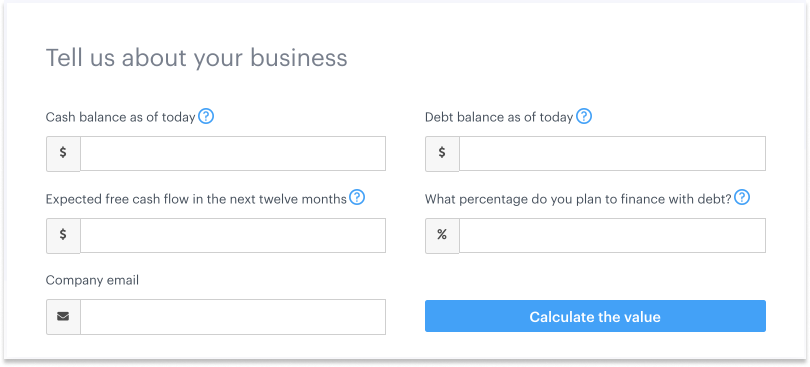 What you'll need
Cash balance as of today: Cash and cash equivalents.
Debt balance as of today: Convertible and non-convertible debt.
Expected free cash flow in the next twelve months: Free cash flow is defined as "cash from operations" minus "capital expenditures."
The percentage of your company you plan to finance with debt: Your company is claimed by debt and equity (Company = Debt + Equity). What percentage of your company do you target to have claimed by debt?


Kick off your valuation process today 

This blog post was written with Evan Rydinski.
---
This calculator is provided for your informational purposes only by eShares, Inc. dba Carta, Inc. ("Carta"). Carta does not provide legal, tax, or financial advice, and the use of this calculator is not a substitute for such professional advice or services nor should it be used as a basis for any decision or action that may affect your business or interests. USE OF THIS CALCULATOR IS ENTIRELY AT YOUR OWN RISK, AND CARTA ASSUMES NO LIABILITY FOR THE USE OF OR RELIANCE ON THIS CALCULATOR.  Carta provides no assurances of this calculator's applicability or accuracy with respect to your particular circumstances. This calculator is provided "as is" without warranty of any kind, either express, implied, or statutory, including without limitation, warranties of merchantability, fitness for a particular purpose, satisfactory purpose, title or noninfringement. Some jurisdictions do not allow the exclusion of implied warranties, so these exclusions may not apply to you.