Before she launched Open Venture Capital, Kimberley Nixon was a startup operations expert with years of product and sales experience under her belt. As COO for Health House, an LA-based wellness startup, she worked with the founding team to pitch VCs on the business. After hearing so many rote, by-the-book questions from investors during their pitch meetings, Kimberley realized most venture firms still lacked a solid operational understanding of many of the businesses that approached them—which meant that potentially game-changing ideas were being ignored. She founded OVC to put her operations skills to work on the other side of the table. The firm's investment strategy focuses on consumer, health, and wellness startups at the seed stage. 
We spoke with Kimberley about what makes LA an exciting venture hub for her firm, how she communicates that thesis to limited partners (LPs), and why she's passionate about making space for Black women to invest in her fund.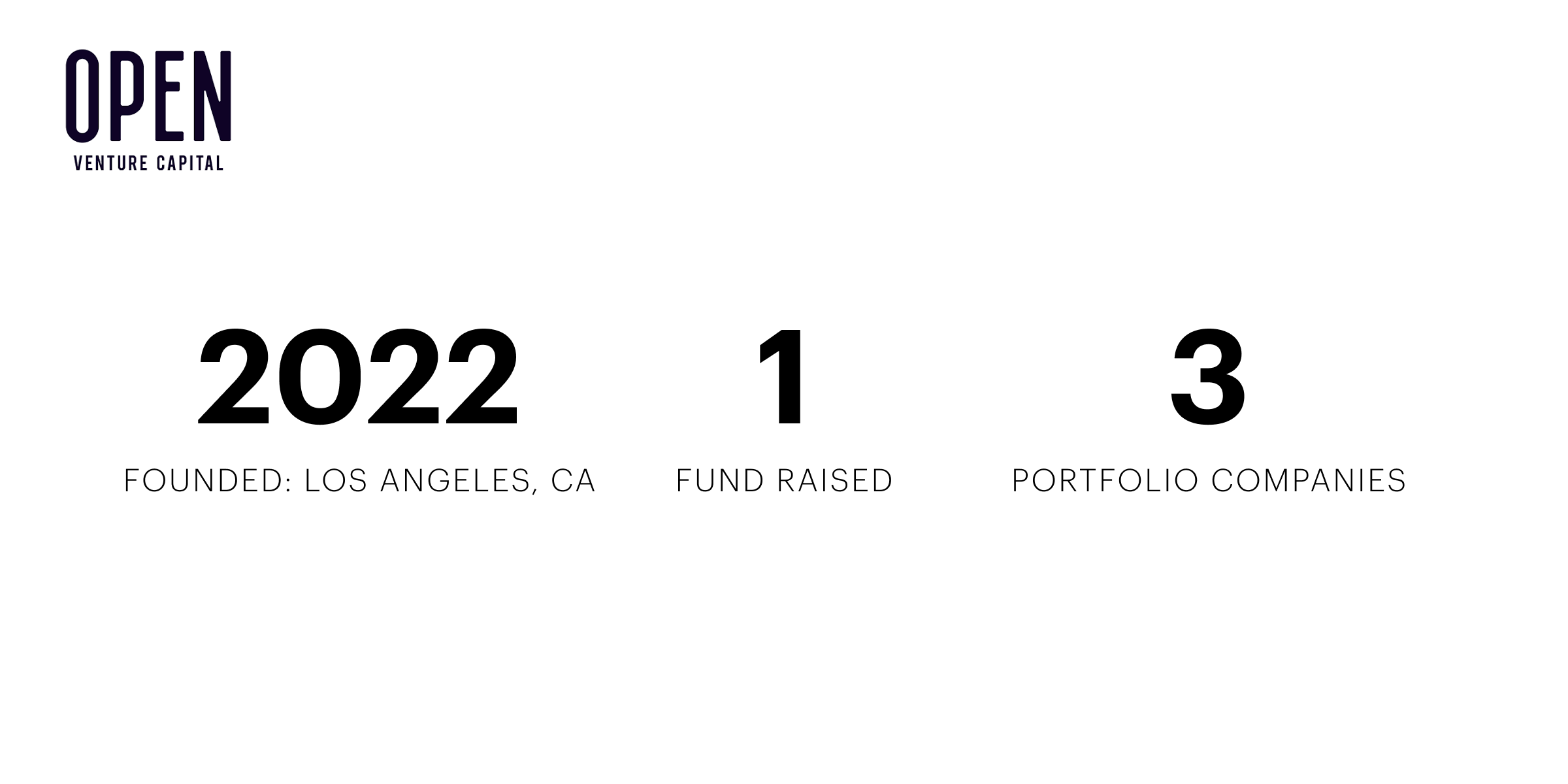 Nigeria: You launched Open Venture Capital as a solo general partner (GP). What made you decide to go solo, and what advantages and challenges came with that decision? 
Kimberley: I anticipated going through this process with a partner because I wanted someone else to handle the fundraising. I planned to stay in my safe space, which is building frameworks, being strategic, having great relationships with founders, and being able to identify and build a great pipeline of companies. But I also wanted to be a trusted resource for founders and LPs. I was going to do whatever it took to be someone of high repute with both audiences. That was the real impetus for being a solo GP: I wanted to control that narrative from the outset. 
Fundraising and investing at the same time is difficult. It requires that you have really good systems in place. Thankfully, what I've done for most of my career is put systems in place and make systems more efficient. I'm building myself systems now: I have metrics that I need to hit in terms of how much time I spend on founders per week, how many LPs or potential LPs I talk to in a week's time. I created my own little funnel for LP conversion. I'm taking all of the tools that I've built and used in my role as an operator, and I'm translating that into being a GP now.
Nigeria: Los Angeles has been on the upswing in terms of originating new VC firms. Can you tell us a little bit more about this market and what makes it unique?
Kimberley: LA is unique because it's always been appealing from a creative perspective—it's a place where people can have big dreams, like launching a startup. It's an interesting market now because there's a lot more folks from creative roles moving into entrepreneurial roles. You can see that even with the Honest Company and Jessica Alba being able to turn her problems as a new mother into a very successful business that went on to raise capital and then IPO. 
A lot of this has happened with the rise of social media, as well: Over the last 10 years or so, there's been a real burgeoning set of creatives who are trying to figure out how to take the audience and influence they've built and monetize it in a way that feels authentic to the consumer. LA is a great place for that, especially for certain industries: beauty, fashion, health and wellness. You bring together the creatives and commercialize with a product—that's been the real push behind a lot of brands coming out of LA. Good American, Skims—they've been able to create scalability that was not otherwise possible prior to the rise of social media.
Nigeria: Can you tell us more about your investment thesis and how you communicate it to prospective LPs?
Kimberley: There's no shortage of great product ideas—or great founders, at that. And many founders know their consumer and their needs very intimately. So that's a baseline that I expect for any products that I'm investing in. I'm looking for a product that has an outsized chance at capturing market share. 
There's been a shift in the way that consumer brands are being looked at from pre-pandemic to now, and the way that these brands have to think about growing community and audiences had to be central to my thesis. Does the brand have a unique point of entry, and does it have a shot at being highly referred to throughout a specific target community? That is the point of differentiation I'm looking for, and it's easier to identify those underserved communities in the health and wellness sectors.
I've built a three-part framework for this assessment. And when I'm talking to LPs, I walk them through my framework. I can usually point them to companies that already exist in the market that would fit the framework, and then show them the types of companies that I'm currently looking at that also check all those boxes. To take that one step further, I have something I call my "bingo board:" it's a matrix of consumer segments and distribution models that I'm looking for in my pipeline. It's a really interesting conversation I have with LPs when I share the matrix: They're already thinking about who in their network fits that mold, or we're having great conversations about where they challenge the framework.
Not every portfolio company I invest in will fit that bingo board perfectly, but it's a great point of conversation for us to use to determine what could work, or where there might be holes in the thinking. LPs really enjoy this because it helps them to be a part of the evolution of the fund—even in the ideation of how we're building our portfolio. This is a living, breathing document that will evolve over a period of time and with each investment. So it's a really great tool to use for raising funds and assessing companies.
Nigeria: Why did you decide to invest in startups at the seed stage?
Kimberley: I landed at seed because the size of the fund means that I'm writing smaller checks of about $250,000. That's substantial to a founder at this stage. I also think it's the stage where I can help the most. Traction is fleeting at seed stage. You could have traction today and then privacy laws change and your plan for ad spend is null. This is an important stage for testing and iterating. Piloting, measuring, and iterating to build go-to-market plans is what I do really well, and it's valuable at this stage.
Nigeria: As a GP, what keeps you up at night and what makes you most excited to get up in the morning?
Kimberley: It's actually the same thing. I have my affirmations. I'm like, "we are definitely 10x-ing"—and I can't believe I just said that to you, because that means I put it on paper. But when I think about 10x returns, that is really exciting, because I'm looking for the companies that can get us to 10x. And at the same time, it keeps me up at night cause I'm like, "How am I going to get us to 10x?" 
I have to say this is particularly important because I'm building a fund that is meant to invite and to include Black women. So when I say "We're 10x-ing," I don't just mean my institutional partners or family offices or the ultra high net-worth individuals that I'm looking to speak to. I'm also looking at creating game-changing opportunities for people like me, who have worked for X number of years and aren't sure what else to invest in. I would like for this to be an opportunity that gives them freedom and options to make decisions beyond their nine to fives. Especially now, when it feels like our options and our freedoms are being ripped away from us.
Nigeria: You're also passionate about educating Black women on investing. Can you tell me a little bit more about that? 
Kimberley: I've been an investor for a long time. I was a real estate investor first. I'm lucky to have had enough experience and enough time in the market to know financial freedom, independence, optionality. I can basically make decisions about how I want to operate at this point. The older I get, the less optionality I was seeing happen for my friends—and also, frankly, for my tenants. 
I'll never forget one specific woman. I was pretty young as a landlord at the time, and she was over 50. She'd been a tenant of mine for over two years. We lived in a duplex, so I knew her well—and she had built an amazing life for herself. She gave me notice and said she needed to move in with her son: He was having a baby and financially it made more sense. I could see how her independence was being pulled from her. But she would do anything for her child. And it really rocked me that this woman who had built her entire life and did everything she was supposed to do right, now had her optionality limited. This is a story that truly exists for lots of Black women, and we need to learn to put our own masks on first. There is an expectation, an additional burden that is put on Black women—and we're the lowest paid in society.
So if there's an extra burden and we're the lowest paid, how is a woman ever supposed to reach a point where she has the ability to do what she wants? Financial health is absolutely a part of our health and wellness. You do what you want when you poppin'—I'll let the reader Google that one. That's why I'm making room for them in the fund. 
DISCLOSURE:
This communication is on behalf of eShares Inc., d/b/a Carta Inc. ("Carta"). This communication is for informational purposes only, and contains general information only. Carta is not, by means of this communication, rendering accounting, business, financial, investment, legal, tax, or other professional advice or services. This publication is not a substitute for such professional advice or services nor should it be used as a basis for any decision or action that may affect your business or interests. Before making any decision or taking any action that may affect your business or interests, you should consult a qualified professional advisor. T
his communication is not intended as a recommendation, offer or solicitation for the purchase or sale of any security. Carta does not assume any liability for reliance on the information provided herein. 
©2022
eShares Inc., d/b/a Carta Inc. ("Carta"). All rights reserved. Reproduction prohibited.