Carta edge for emerging managers
Start venturing with Carta Edge
The process of starting a venture capital firm is expensive, complex and unclear for fund managers. Carta Edge helps fund managers to focus on what you are most passionate about: investing. We guide you through fund setup, closing, and management.
Move faster with Carta Edge
The one-stop shop for launching a fund¹
Whether you're starting out with SPVs or you're ready to launch your first fund, Carta Edge is your partner. With Carta SPV and Carta Fund, we form the entities, provide legal document templates, administer your fund, send your LPs digital subscription documents, and provide tax and audit support.
Streamlined, professional SPV
formations and administration
Form and close your fund with
our seamless digital workflow
We also offer products and services ideal for funds in need of complex fund administration, capital call lines of credit⁵, ASC 820 valuations, portfolio insights, KYC/AML services and more.
We form the entity, secure a registered agent, and obtain a tax ID. Send your LPs digital subscription documents on Carta and manage your LPs with our robust platform. You can send your legal docs and manage accounting and taxes in-app, working with our experienced SPV and fund admin team and tax partners.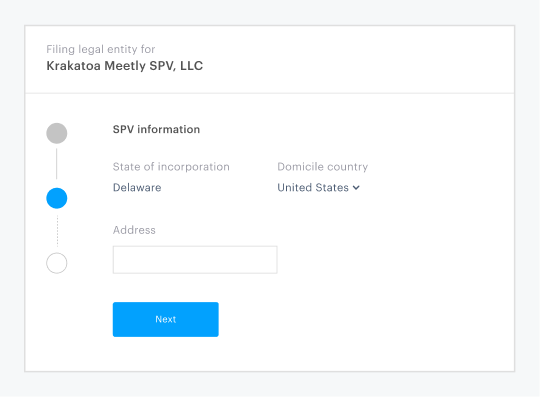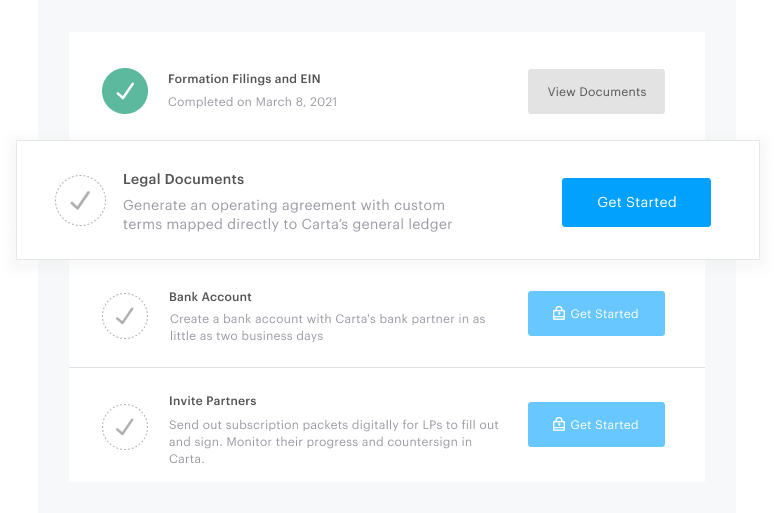 Form your Delaware fund with just a few clicks and close your fund with our seamless in-app workflow. Pre-fill your subscription documents and leverage our industry-vetted Investor Questionnaire to streamline the process for your LPs.
Trusted advisory services
Pre-Close Services for funds
Leverage an expert from our Pre-Close Services team from start through your first close. We will guide you through the many decisions you make as you put together your first fund. Pre-Close Services is included with Carta Fund Formations.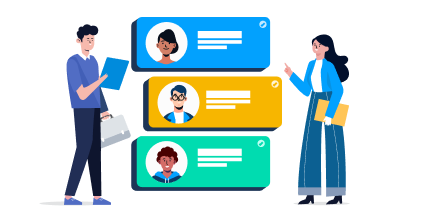 Guidance for first-time fund Managers
A step-by-step guide to launch and manage your firm
Key resources for first-time funds
The new voices of venture capital
Game-changing investors share the stories of their first venture capital funds. Stream The First Close on Apple Podcasts and Spotify.
Get updates from Carta Edge
Carta does not provide legal or financial advice. We recommend that clients consult with legal, tax, and financial advisors.


Carta's legal documents are not intended to serve as legal or financial advice. We recommend that you consult with an attorney licensed in the relevant jurisdiction as well as tax and financial professionals.


Tax return preparation and filing services are provided by a third party service provider.


Banking services are provided by Coastal Community Bank, a Member, FDIC, or another banking partner.


Carta offers capital call lines through a strategic partnership with Coastal Community Bank, a Member, FDIC ("Coastal"). If you are approved for a capital call line of credit ("CCL"), Coastal will be your lender. Coastal's obligation to provide a CCL to you will be subject to customary conditions, including but not limited to Coastal's satisfactory completion of due diligence on you, your GP and your LPs, there being no material adverse change in your business/financial condition, and final, executed loan documents.