End-to-end SPV management
With Carta, you can form, close, and administer special purpose vehicles on a single platform.
Our software makes it easier and quicker to manage SPVs end-to-end.


An SPV platform for professional investors
An all-inclusive platform for SPVs
Fast formation and closing services
Carta helps you customize your legal documents*, forms the entity, helps you to open a bank account, onboards your investors, and runs the initial capital call for your SPV. If you'd like to use your own provider for any of the services, we'll make sure everything is updated on our platform.
Comprehensive SPV management
Our SPVs include unlimited capital calls and distributions, financial reporting, streamlined tax prep from our tax partner, and an LP portal so you can keep your investors in the loop.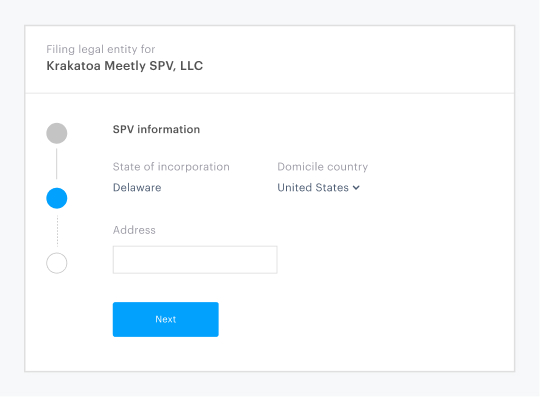 Form your next SPV on Carta
The flexibility of special purpose vehicles (SPVs) has made them the Swiss Army knife of the venture industry.
Get started with Carta SPV today
* We are not providing legal or financial advice and recommend that you consult a licensed attorney and tax and financial professionals.
** All product names, logos, and brands are property of their respective owners in the U.S. and other countries, and are used for identification purposes only. Use of these names, logos, and brands does not imply affiliation or endorsement.
DISCLOSURE: This communication is being sent on behalf of Carta Investor Services, Inc. ("Carta"), an affiliate of eShares, Inc. dba Carta, Inc., and is not to be construed as legal, financial or tax advice; it is for informational purposes only. This communication is not intended as a recommendation, offer or solicitation for the purchase or sale of any security. Neither Carta nor Carta, Inc. assumes any liability for reliance on the information provided herein.