360 Venture Collective is an early-stage venture firm based in Miami. The firm's three women founders chose Miami as a home base in part because it's the largest U.S. city founded by a woman. Miami's diversity, coastal location, and burgeoning tech scene also make the city an ideal laboratory for testing the firm's "intentionally inclusive" investment thesis: 360 supports founders committed to solving social problems or meeting the needs of underserved markets. 
We spoke with managing partner Kelly O'Connell to get the big picture.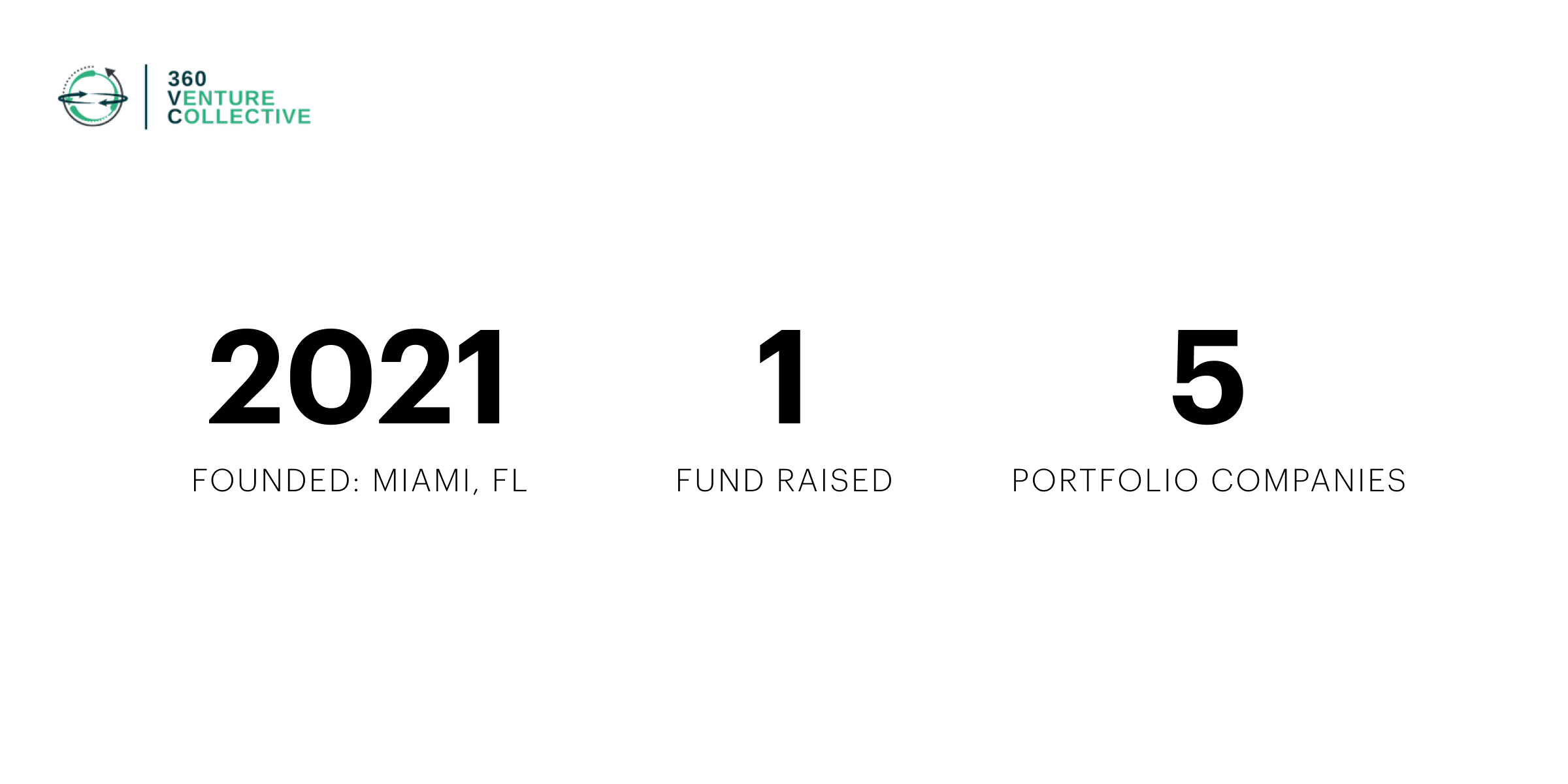 Nigeria Talley: Kelly, what sparked your interest in venture capital? 
Kelly O'Connell: I've always wanted to help the community. I started my life in public housing. When I looked out and saw people who were successful, they were always business people. So I was always really passionate about business—I saw it as a way out. But I didn't really understand how businesses got funded until I got my MBA. I realized how few of the people who write checks have stories like mine, looked like me, or came from where I came from. I realized there was an opportunity for somebody to invest in people who were thinking about problems from that lens. That's what inspired me to launch 360 Venture Collective.
Nigeria: There are a lot more funds and firms led by women today than there were five or 10 years ago. In your view, what challenges do women still face?
Kelly: Often, the deal flow I receive is gendered—it's based on me being a woman. When people try to refer deal flow to our fund, it's often non–thesis focused. 
We run a tech-enabled thesis, but we get a lot of beauty consumer packaged goods (CPG) marketplace deals flowed to us because people assume that as a woman investor, I'll be interested in women's CPG or consumer retail—which isn't our space. That's something I've talked to a lot of women venture capitalists about. Many of them have shared a similar story about being filtered deals that are female gendered.
Nigeria: What steps did you take to find investors for your fund? What strategies worked best for you?
Kelly: This is a journey that we're undergoing as emerging fund managers. There's three of us, and we sat down—as we would with any product—and asked ourselves, "Who's our target customer avatar? Who are we trying to reach? And why do we want to reach them?" 
We originally started with our network and planned a much smaller fund on a 506(b) private fund structure. We planned on just reaching out to a very limited pool of known investor contacts in our network. Those early conversations led to so much positive feedback and such traction—but all of them said, "You're not raising large enough for us to contribute." So we had to raise a larger fund. 
Nigeria: What was that original fund size? 
Kelly: We were initially going to raise a $10M fund. Actually, truth be told: Before we formed, we were planning to raise a million-dollar fund and make 10 small test investments as a microfund. Then we revised up to a $10M target. Now we're raising a $25M target fund on a 506(c) structure—we converted. 
Nigeria: What was the thinking behind that switch to a 506(c)? Was that so you could use public promotions to expand your investor pool?
Kelly: It wasn't because we needed the promotional ability, but that's a nice byproduct. It was because we wanted to expand the inclusivity of the investor pool to better represent the founders we're investing in. We wanted to be able to intentionally identify women LPs and other people who haven't historically had investments in venture funds. We're intentionally focusing on increasing the diversity of both the founders we invest in and the LPs who are backing us.
Nigeria: You mention making space for purpose and profit on your website. Can you explain what this means to you, and describe how you balance purpose against profit when evaluating the success of a company?
Kelly: We see investing in purposeful companies as profitable, and that's an important note. We are intentionally focused on venture-scale companies, companies that have a large total attainable market size, that have the ability to scale and grow in a commercial way. But we don't believe that to do that, you have to forego sustainability or inclusion. Instead, we believe that when you create space for intentional inclusion in your internal culture and sustainability in how you're servicing your client audiences, you actually increase your potential for profitability. 
Nigeria: Do you consider yourself an impact investor?
Kelly: I do consider myself an impact investor. We ask all of our founders to commit to building intentionally inclusive companies, which is one key element of impact investing. As part of our deal review process, we also look at adherence to the United Nations Sustainable Development Goals. 
Nigeria:  Your firm has an interest in investing in property tech. How does proptech align with your thesis to invest in impact founders? 
Kelly: I think there's a tremendous need for innovation in how we think about housing and how we think about community living and working. And I think those problems are best solved by people who historically have not had the opportunity to solve them. It's an industry vertical that's very close to me professionally. 
It's also really important in terms of climate tech. Our fund is based in Miami. And Miami, in my mind, is a climate action city. It can't avoid the impact of climate change on city structures and systems. As we look at continuing technical innovation, the impact of climate, and the need for community development in terms of leveraging property and property tech systems to support community—those things come together and make property tech a high-growth area. It's an area that also has a really strong compound annual growth rate. 
Additionally, this is a system that is late in its development; so many leading industry providers in this space, from construction to real estate, have been late adopters of technical solutions. And so we believe there's a lot of room for disruption in this space.
Nigeria: How would you advise fund managers and creators seeking to create viable communities of investors? 
Kelly: For me, community is a living and changing organism. It's really important for you to reach out. Spend more time listening than you do just talking at people. Spend time helping others. 
Nigeria: What impact has your community had on your journey as a fund manager?
Kelly: That's been the really compelling piece of this VC journey: I went out on a limb and said that I wanted to do this. And I asked two people I trusted immensely to join me on the journey. And since then we've asked countless people to step in and support us.
And we've given a lot back, but we've received far more in return just by asking. Every time I speak, including at that event, I talk particularly to women founders: Dare to ask, dare to believe that your big dream is possible. It's really important to me because so often we self-censor out of fear. And when you lean into community, you create the support structure you need to actually achieve the goals that you dream of. And that only happens if you dare to ask. So that's what community's about: listening to somebody else's ask and authentically helping where you can.
Nigeria: What advice would you give someone aspiring to become a fund manager?
Kelly: Learn first. There are a lot of people talking about raising a fund right now, and it feels very easy. It's easy to look at VC Twitter and say, "I'm gonna start a fund!"—there are a tremendous amount of tools. But you have a fiduciary responsibility. You're taking somebody else's money—the LP's—and you're beholden to them. You have to make sure that you're doing it in a way that is compliant, manages risk, supports the needs of the founders you're investing in, and ideally, produces returns. Take the time to learn—and then take the time to really align on your thesis. You're going to be working in that space for the next 10-plus years. So be really intentional about what you select for your thesis, the same way you'd expect a fund portfolio company to be really intentional about the problem they're solving. Don't just jump in on a thesis because you think it has returns potential. Really love it. Because you're going to live, eat, and breathe that thesis, and the industry companies that you're supporting, for the next 10 years.
DISCLOSURE:
This communication is on behalf of eShares Inc., d/b/a Carta Inc. ("Carta").  This communication is for informational purposes only, and contains general information only.  Carta is not, by means of this communication, rendering accounting, business, financial, investment, legal, tax, or other professional advice or services.  This publication is not a substitute for such professional advice or services nor should it be used as a basis for any decision or action that may affect your business or interests.  Before making any decision or taking any action that may affect your business or interests, you should consult a qualified professional advisor.  T
his communication is not intended as a recommendation, offer or solicitation for the purchase or sale of any security. Carta does not assume any liability for reliance on the information provided herein. 
©2022
eShares Inc., d/b/a Carta Inc. ("Carta"). All rights reserved. Reproduction prohibited.