At Carta, we believe in creating more owners. Liquidity solutions play a vital part in that mission—ownership isn't meaningful unless you can unlock it. We help private companies to unlock liquidity, either through traditional tender offers and share buybacks, or by the new price discovery auction framework on CartaX. 
So how are companies using Carta's liquidity solutions in 2021? 
Key figures for tender offers in 2021
Carta completed 41 tender offers between January 1 and June 22 of 2021, with another 32 currently in progress. These 73 programs represent more than double the total Carta tender offers last year—by the end of Q3, Carta will have completed more tender offers in 20211 than the 90 programs2 executed by Nasdaq Private Market in all of 2020.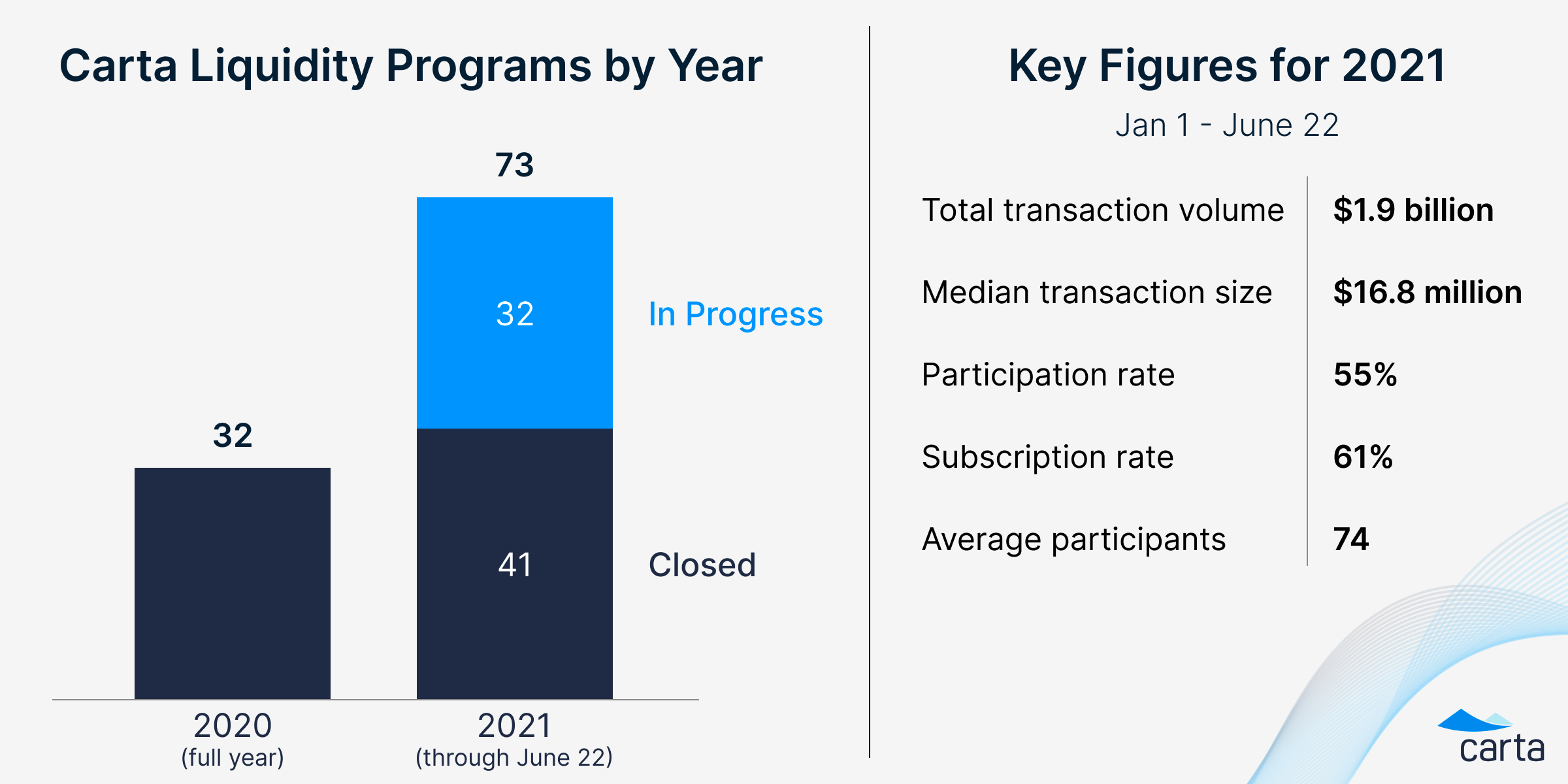 This year, we're seeing interest in tender offers far exceed the demand from previous years. Total transaction value of the 41 completed liquidity events stands at $1.9 billion. Offers so far in 2021 have tended to be larger: while the median transaction size is $16.8 million, nearly 40% of tender offers have had a transaction size over $25 million. 
50% of invited sellers have participated in a transaction, while the subscription rate was 65%. The average tender offer at Carta involved 74 participants.
How tender offers work differently at Carta
The rise in interest in tender offers that we're seeing in 2021 is a great thing for companies looking for liquidity. The only downside is that they take a lot of time and oxygen, especially for the law firms that help companies through the process. 
But at Carta, we're uniquely able to solve this problem. Tender offers (as well as any other liquidity programs) at Carta are seamlessly integrated to the underlying cap table. We also partner closely with companies and their law firms to save time, pain, and money for everyone involved.
Some highlights:
No onboarding or implementation is required: If your company is already on Carta, they don't need a new setup process. If not, setup is quick so there's no disruption in your timeline.

T

ransfers and money movement are automated—meaning that you don't need to

collect banking info or oversee wire transfers.

There's no post-close cap table reconciliation at all, which eliminates both paralegal time and the possibility of human error.
Reach out to us as soon as a liquidity event is a possibility. We'll help you through all stages of the process, starting with scoping, planning, and determining your timeline. We work with you for all transaction types and structures you might consider as you're planning liquidity, and will partner to find a cost structure that's tailored to the transaction. 
What's next in liquidity?
The pipeline for tender offers remains robust. We'll be issuing a report diving deeper into liquidity trends in the first half of 2021 next month. If you're interested in how you could work with Carta on a tender offer or other liquidity solution—either on behalf of a client or as a founder—you can contact us anytime.
1Projection based on current average of 12 Carta tender offers per month.
DISCLOSURE: This communication is on behalf of eShares Inc., d/b/a Carta Inc. ("Carta"). This communication is for informational purposes only, and contains general information only. Carta is not, by means of this communication, rendering accounting, business, financial, investment, legal, tax, or other professional advice or services. This publication is not a substitute for such professional advice or services nor should it be used as a basis for any decision or action that may affect your business or interests. Before making any decision or taking any action that may affect your business or interests, you should consult a qualified professional advisor. This communication is not intended as a recommendation, offer or solicitation for the purchase or sale of any security. Carta does not assume any liability for reliance on the information provided herein. All product names, logos, and brands are property of their respective owners in the U.S. and other countries, and are used for identification purposes only. Use of these names, logos, and brands does not imply affiliation or endorsement. ©2021 eShares Inc., d/b/a Carta Inc. ("Carta"). All rights reserved. Reproduction prohibited.