Rule 701 is a federal exemption that allows private companies to issue up to $10M in equity to employees, without extensive disclosures. Most startups rely on Rule 701 to issue employee equity. Rule 701 is friendly to startups and small companies who want to issue equity but can't afford expensive accountants or lawyers.
Rule 701 was recently updated. We'll walk through the changes and break down the mechanics of the exemption in detail.
Recent changes to Rule 701
The Economic Growth, Regulatory Relief, and Consumer Protection Act of 2018 mandated that the SEC revise Rule 701(e) to increase the threshold from $5M to $10M on aggregate securities sales during a consecutive 12-month period. Basically, private companies can now issue up to $10M of securities to employees without extensive disclosures.
The higher limit means fewer companies will be subject to the additional disclosure requirements. Preparing additional disclosures is complex and the change will save a lot of time and money.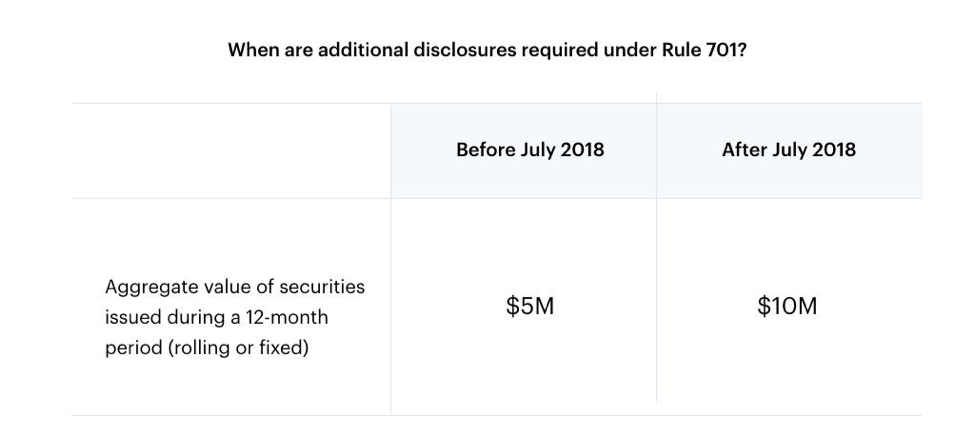 How does the Rule 701 12-month period work?
There are two methodologies for calculating the 12-month window. It can either be on a rolling 12 month basis or a fixed basis from a certain date. Once a company chooses to use one methodology, they are required to stick with it going forward.
Most companies align the 12-month period to their fiscal year. However, if a company is issuing a lot of securities at a certain time of year (because of bonus structures or cohort hiring), it may make sense to structure the 12-months so the large batch of securities is split across two periods.
Your outside counsel can give you advice about the best way to structure your grants. If your company is close to the $10M threshold, it's important to plan equity issuance carefully if you want to avoid triggering additional disclosures. Carta has tools to help you measure your Rule 701 tally in real time and to run a Rule 701 compliance check every time you issue equity.
When does the Rule 701 change take effect?
The effective date of the SEC action was July 23, 2018. Companies relying on Rule 701 that already issued securities in their 12-month period can retroactively apply the new $10M disclosure threshold to all securities issued in that period.
For more information, read the SEC Action statement.
---
Disclosure Notice: This communication is on behalf of eShares Inc., d/b/a Carta Inc. ("Carta"). This communication is not to be construed as legal, financial or tax advice and is for informational purposes only. This communication is not intended as a recommendation, offer or solicitation for the purchase or sale of any security. Carta does not assume any liability for reliance on the information provided herein.
Transfer Agent services provided by Philadelphia Stock Transfer, Inc. a Carta affiliate.